Have you ever found yourself watching reruns of the classic sitcom "Golden Girls" and thought to yourself—they've got the right idea? Well, you aren't the only one. The folks at Senior Services for South Sound know that at different stages in life, people may have spaces in their homes that could be put to great use, which is why they brought in the Home Share Program into their list of services. Home sharing is a viable housing option that fits a big need for people in our area.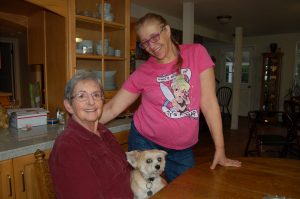 "Anyone can participate in our home share program," says Dolores Blueford Ph.D., home share outreach coordinator for Senior Services and AmeriCorps Vista. "You don't need to be a senior to be a home seeker or a home provider."
There are many benefits from home sharing, and people go into it for all sorts of different reasons. It can be financially beneficial for both a home seeker, and a home provider. Rent agreement amounts in home shares vary, but they generally hover around $500 to $600 says Blueford, which is a huge difference compared to $1,059, the average rent of a one-bedroom apartment in Thurston County. And the income made from a home share can be a great benefit to a home provider.
Financial benefits aren't the only reason people consider home shares. Home shares can offer companionship, community building and cross generational learning opportunities. Work agreements can be built into home share contracts. For instance, a home seeker can provide transportation, gardening or run errands in place of a portion of the rent. Home sharing is also good for the environment, making the most of existing developed resources.
Home sharing is not a quick process. Matches can take time. Senior Services does extensive screening, reference checks, and criminal background checks to help home seekers and home providers find the right match. But once a good match is made, the benefits for both the seeker and provider are numerous.
Senior Services for South Sound will be hosting a Home Share Providers Forum to answer questions about the Home Share Program on September 10 from 2:00 p.m. to 3:30 p.m. at the Olympia Senior Center. For more information, call the Senior Services Home Share Coordinator at 360-586-6181, ext. 120 or email homeshare@southsoundseniors.org.
Senior Services for South Sound
222 Columbia Street NW, Olympia
Sponsored