Living in Western Washington gives residents and visitors hundreds of opportunities to take part in fantastic events year-round. With so many options, how do you choose? The Lacey South Sound Chamber of Commerce wants you to stay informed on the many upcoming community events that are both affordable and a great time. In the South Sound, there is always something to do, making it the perfect day-cation or overnight getaway.
Olympia Harbor Days
Taking place from August 30 – September 1, Olympia Harbor Days is annual non-profit festival that celebrates the return of the vintage tugboats of the Puget Sound to Olympia for three days of entertainment, food, art, history and a last farewell to summer.
This Olympia Kiwanis Club event will feature both land and sea adventures fit for all ages. Just some of many activities offered such as Squaxin Island Tribe art, cultural displays, a salmon bake, live outdoor demos, sand carving, and much more.
The 'sea activities' will include vintage tugboats, races, ship and boat tours, bay cruises on the vintage steamship Virginia V, sailings on the historic Lady Washington, Port of Olympia tours, and so much more. Don't miss out on this amazing festival at Percival Landing this summer.
Brats, Brews, & Bands Festival
While attending the yearly Brats, Brews, & Bands Festival, indulge in high quality brats, delicious brews, and jam out to multiple bands throughout the day. Drink and food tokens will be available for purchase that can be used for brews, brats, and/or soft drinks. This year's lineup of bands will have you dancing the night away! A few of the participating bands include Washed in Black, Creature Hole, and Exit 88.
The Brats, Brews, & Bands Festival is a 21-and-over event as well as a major fundraiser for Gateway Rotary. Festival proceeds will be donated to charities impacting our local and international community. Past recipients that the Gateway Rotary has supported are the following: Homeless Backpacks, Rebuilding Thurston County Together, and Cool Jazz Clean Water.
Please assign a designated driver in your group who is welcome to drink free coffee and soft drinks throughout the day.
Girlfriends Fall Market
Gather your best friends and welcome the changing of the season at the Girlfriends Fall Market! Two buildings will be filled to the brim showcasing one of a kind vintage finds and creative works. Your Pinterest inspiration boards will be brought to life as you wander through the booths displaying beautiful antiques, refurbished furniture, farmhouse décor, midcentury modern pieces, and historic treasures.
Admissions to the event is $5, kids and parking are free. They will have yummy food and drinks available as well.
Oysterfest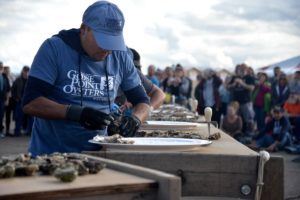 What's better than fresh oysters paired with wine, microbrews, and live music? Enjoy all of this and more at the 2019 Oysterfest, Washington State's Seafood Festival. This annual brings in thousands of attendees to not only support local charities, but also make lasting memories.
Spectators can plan to watch the West Coast Oyster Shucking Competition, participate in hands-on water quality exhibits, and treat themselves to delicious food in the festival. A few of the items that will get your mouth watering include barbecue oysters, fritters, spring rolls, garlic shrimp, fresh cider and plenty more.
Making Strides Against Breast Cancer
Help support the fight against breast cancer at this year's motivational Making Strides Against Breast Cancer walk. The day will begin with plenty of high energy as the walk prepares to kick off and venture through Lacey. End the walk back at the starting point and participate in an ultimate dance party.
Please register ahead of time at the Making Strides website.
This article was provided by the Lacey South Sound Chamber of Commerce and Discover Lacey. For more upcoming events in the area, visit the Discover Lacey website and the Experience Olympia website.
Sponsored