Recently I had the privilege of meeting a few of the students, case workers, instructors and the program director of YouthBuild. YouthBuild is a program that Community Youth Services provides for Thurston County at-risk youth ages 16-20 in partnership with New Market Skills Center.

YouthBuild is a full-time program that helps at-risk youth earn a diploma or GED, while getting hands-on training in either construction or nursing programs. The kids that apply to this program come from different backgrounds. But they all have one thing in common and that's determination, passion and a drive to finish their high school degrees and get training to enter the workforce.
"Our goal is to re-engage high school dropouts or students who are struggling in a traditional high school setting," says the program director Jason Lucarelli. "We specialize in working with students who need extra support overcoming issues related to homelessness, poverty, substance abuse, court involvement, disabilities (including academic), or other barriers to success, including help with transportation. YouthBuild is structured like a full-time job and students can earn up to $3,000 as they learn employability and leadership skills. We provide academic, career development and case management services with the ultimate goal of helping students pursue employment and postsecondary education. As a registered pre-apprenticeship program, we also offer direct entry opportunities into several career pathways."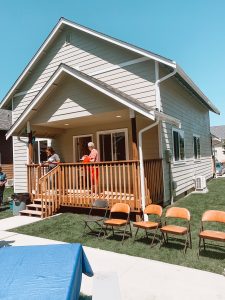 I met some of the team on a Saturday afternoon while they were presenting a house that they had built in partnership with Habitat for Humanity to a deserving family. I asked Project Manager Tim Stender how much of the work was actually done by the YouthBuild students and he replied, "The entire house was built by these students, other than the electrical and plumbing which by law they are not allowed to do."
In addition to this house that these 25 students built, they also build around 6-8 tiny homes as side projects. These tiny houses were then given to the Plum Street Village.
Along with the construction program, YouthBuild also has a nursing program that is held at New Market Skills Center. Both of these programs focus on ensuring that the students are getting real world, hands-on training while completing their credits to obtain their diploma or GED. A typical day starts right at 8:00 a.m. sharp. Students sign in as if going to work when they enter the classroom.
"If they are here at 8:01 a.m. they are late," Jason says, "and they will have consequences such as losing pay for the day. The students are able to miss six days during the year." The reasoning behind this is to prepare these students for the real world and to ensure they are set up for success. But this is all done with love and compassion.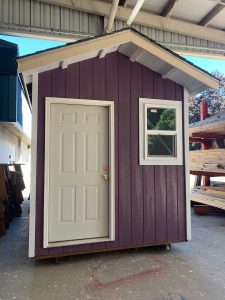 After arriving for the day, the students are then divided into different groups. Some start their day by attending their online classes in the classrooms, others leave to go to the job site with Tim, and a few are in the workshop working on tiny houses with the other instructor. I asked Tyler, who is one of the pupils at YouthBuild, what he has learned this past year in the program, "I have grown as a person, learned how to be more of an adult and also have fun in the process."
Learning about YouthBuild and interacting with Jason and the students has been such a great experience and has allowed me to understand the importance of this program. Some of the kids that are enrolled in this program never even thought about finishing school and didn't have a path in life. After getting accepted into this program, these students form a community with their peers. Their caseworkers and instructors give them guidance and are their mentors while they are at YouthBuild, and in many cases after they have graduated from the program.
The caseworkers meet with each student at least once a week individually to check in, discuss their struggles and provide consistent mentorship. Most kids are told that they need to finish high school and then attend college, but for some that path is not feasible. This program is helping youth finish their high school education and also sets them up with jobs working for unions, medical establishments and other trade professions.
One of the kids who made a huge impact on me personally was Mike. Mike finished his academic credits in early November and then continued to work on the construction projects full time. Mike is a bright young man who has such a bright future ahead of him. Mike aspires to be an electrician and this program has helped prepare him for that future. "I love seeing people push through and finish their goals," says Mike, when I asked him what his favorite thing about the YouthBuild program was.
YouthBuild is funded by U.S. Department of Labor, and currently they are in the process of applying for their funding for the next two years. If you would like to volunteer your time or help financially, please get in touch with Youthbuild. To apply, check the website as they usually take applications before the school year begins.