Ricky Cruse still remembers Zach Lofgren getting a new baseball glove when both were about eight-years-old.

The two had already been playing together for at least a season or two when the glove made its first in-game appearance. It quickly became a trusted ally out on the field for Lofgren – equal parts serviceable equipment and good luck charm all rolled into one.
The glove would stay by Lofgren's side for nearly a decade as he made his way through the ranks. It survived youth baseball and middle school, then three years of high school with plenty of summer league tournaments thrown in along the way.
Following Lofgren's junior season at Rainier High School, the leathery mitt, which assisted its owner on countless spectacular plays, was on its last legs and finally sent out to pasture, retired and replaced by a new glove for his senior year.
When taking stock of Lofgren's playing career so far, he hasn't had too many baseball-related relationships that have stuck around longer than that glove. In fact, there's probably only one thing that has been around Lofgren for longer on the baseball diamond and that's Cruse himself.
While the trusty glove has been discarded, Lofgren and Cruse are still going strong.
After etching their legacy with the greatest season in Mountaineers baseball history this past spring, the duo will continue to be teammates next year as both will continue their education and baseball careers at Wenatchee Valley College.
"Since the beginning of the season, we had talked about and hoped that we would be able to play together in college," said Cruse, a right-handed pitcher. "It got real after our successful season. The week of our graduation Zach and I sat down with our coach, Mark Mounts, and went over our options."
Both players received interest from several schools, including Taft College and Portersville College in California, and Chemeketta Community College in Oregon, but as Lofgren put it, "We just felt like Wenatchee was a better fit."
"We came to the mutual decision to commit to Wenatchee Valley, and on the same day as our high school graduation we signed our letters of intent," Cruse said. "It was a crazy and exciting day."
Cruse and Lofgren join a Knights program that went 8-30 under third-year coach Zach Clanton last season. Both incoming players should challenge for starting positions in their first season of college ball.
"I'm looking forward to going into that next level of competition and going to compete," said Lofgren, who's late three-run home run helped the Mountaineers knock off Adna, 8-7, in the first round of the 2B state tournament this past season. "We're both ready for this."
"I am excited for the college experience as a whole," added Cruse, who plans to study sports medicine/physical therapy. "I am ready to play baseball at the next level, to push myself to be the best I can be on the field."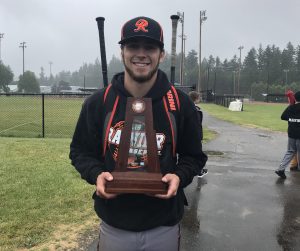 So, what type of players are the Knights getting?
"(Wenatchee Valley is) getting a great guy who knows the game of baseball inside and out. We call him 'Stats' for a reason. He's also someone who constantly develops his game and improves it," Lofgren said about his long-time teammate. "He keeps everyone calm and makes sure everyone has their head on, even if the game isn't really going his way."
And as for Lofgren?
"He has always been a reliable player when it mattered most. You can always count on Zach to make that unbelievable play or have that amazing game changing at bat," Cruse said. "Zach is a very athletic, determined, dedicated and reliable player. He will do great things in Wenatchee."
One thing's for certain, Wenatchee Valley is getting a pair of proven winners on the field.
Before Cruse and Lofgren's class arrived at Rainier, the Mountaineers had never won a state playoff game. During their junior year they helped Rainier win its first state playoff game in program history with a 11-1 win over Orcas Island.
The Mountaineers followed that up by claiming fourth at this year's 2B state tournament after advancing to the state semifinals with an 11-0 thumping of Friday Harbor.
"We had a very close-knit team. There were seven of us seniors on the team and four of us had played together since we were seven," Cruse said. "Everyone got along. We had two great coaches that spent their time and energy on making us better ball players and people in general. Van rides were always a blast. There was never a dull moment."
But this past season was hardly the first time Cruse and Lofgren teamed up to find baseball success thought. Back in 2012, their Nisqually Basin All-Star team won the Cal Ripken State tournament. Two years after that, they went to Colorado and played in the Triple Crown World Series, finishing fourth.
After leading Rainier to a program-best season, the two kicked off their summer by participating in the inaugural Central 2B League All Star game.
They will now attempt to bring the same winning ways to Wenatchee Valley.