You might not consider Whatcom County to be a golfer's paradise, but take a closer look and you'll see that it has a great selection of courses set amid the landscapes that make the area such a beautiful place to visit.
There are 10 public and 2 private courses, including one designed by Arnold Palmer himself. Most are open year-round, with at par deals for Canadian golfers. So, whether you're hitting a few balls with friends or practicing for the PGA, Whatcom County has a combination of forested, hazarded and links-style courses sure to please golfers of all skill levels.
Bellingham Area   

                                   
One of only two golf courses within Bellingham's city limits is the Bellingham Golf & Country Club. This members-only 18-hole course has all the amenities you could want, and is a stone's throw from Interstate 5. Just outside the city, there's no shortage of public links at which to practice your swing. The other Bellingham course is Lake Padden Golf Course, carved out of second-generation old-growth forest, densely treed with a hilly back nine.
North Bellingham Golf Course provides 18 holes of Scottish Links-style play, with panoramic views of Mount Baker. Nearly every hole at Shuksan Golf Club features the presence of water, thanks to nearby Ten Mile Creek, and Sudden Valley Golf & Country Club features 47 bunkers to go along with dramatic elevation changes and the scenic backdrop of Lake Whatcom and Stewart Mountain.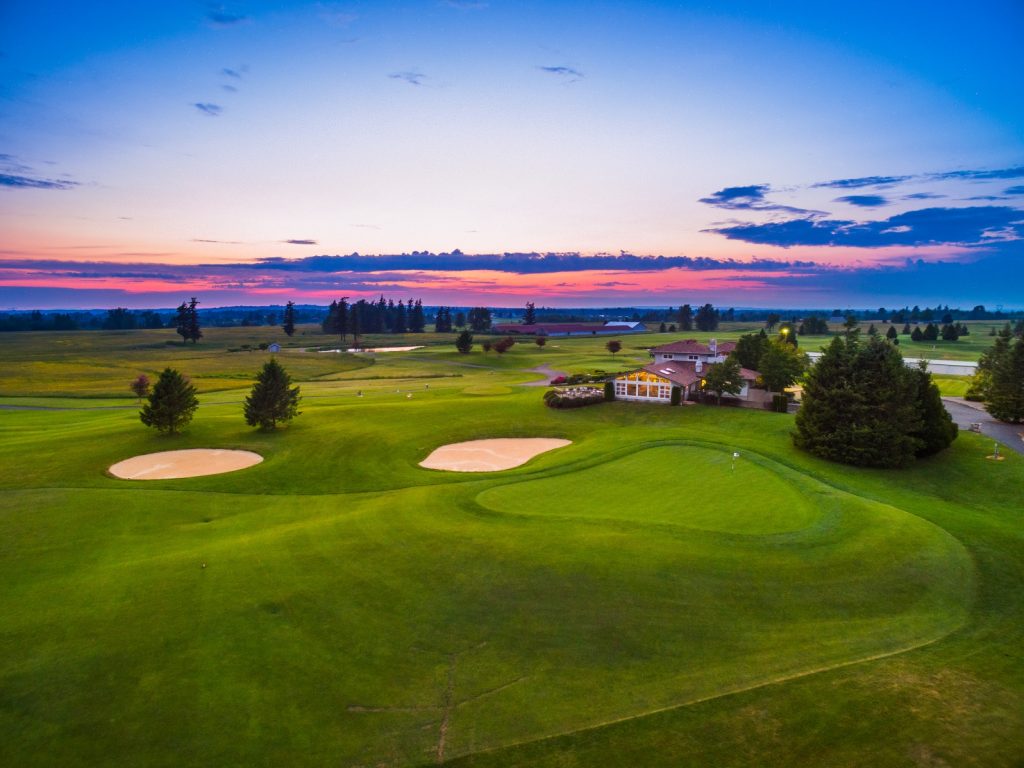 Lynden Area
Homestead Farms Golf Club offers wide landing areas and multiple tees for the recreational golfer, with hidden hazards and doglegs to challenge the more skilled. It also has the only par 5 in Washington State to play into an island green (pictured). The course also recently partnered with The Inn at Lynden for "Tee Fore Two"—a $199 stay-and-play package that includes a round of golf and an overnight stay for two at the historic inn.
Raspberry Ridge Golf Course has excellent drainage and amazing views of Mount Baker from every one of its nine well-maintained holes. It's playable year-round, with enormous greens, open fairways and just the right amount of hazards.
Custer Area
While the Custer area can be overlooked, it'd be a shame to bypass its two great golf spots. Dakota Creek Golf Course's 18 holes provide chances to glimpse bald eagles and deer, among other local wildlife. An old farm house and barn, built in 1916, also stands on the site, and the course's greens fees are among the area's lowest.
Grandview Golf Course, off Portal Way, is just a 10-minute drive fromthe Peace Arch Border Crossing and has an easy walking layout on its 18 holes. The course also often offers Canadian golfers greens fees at par, and a unique layout that puts the 12th green near the club house.
Birch Bay/Blaine Area
Loomis Trail Golf Club, under new ownership from the Lummi Nation, is now a fully public facility after years of semi-private play. The 18-hole course has one of the highest slope ratings in Washington State, with consistently fast and smooth greens. On August 18, Loomis Trail will host a celebrity golf tournament featuring numerous former Seahawks players, as part of FanFest Northwest.
Semiahmoo Golf & Country Club, located at Semiahmoo Resort, is rated one of the state's best courses by Golfweek magazine—and was designed by the legendary Arnold Palmer. The 7,000-yard course has 67 bunkers, rolling and generous fairways, and fast, challenging greens. It's fully private and requires membership (though is also open for play to guests staying at the resort), as well as a traditional dress code.
Point Roberts
It's easy to forget that the geographic enigma of Point Roberts is actually in Whatcom County, despite having to go through Canada to get there. The 4.884-square-mile area is also home to an 18-hole golf course that was recently restored under new ownership. Bald Eagle Golf Club features newly sodded greens and aprons, cart and path upgrades, and revitalized fairways.
With all these options in mind, there's plenty of opportunity to throw your club bag in your vehicle, head north, and make a day of it. Regardless of how your scorecard turns out, the natural beauty and challenging layouts of Whatcom County's golf courses ensure you'll have a great time.
Plan Your Trip
Bellingham Whatcom County golfing information
Bellingham Whatcom County lodging information
Sponsored