After a half decade of prior planning, the basic steel structure of the Mason Clinic is now complete. To celebrate the construction milestone, Mason General Hospital & Family of Clinics (MGH&FC) leaders joined hospital and construction staff for the building's Topping Out Ceremony. A rite of passage in the building world, the Topping Out Ceremony saw a final steel beam secured to the highest point of the future clinic.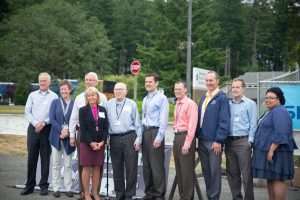 District staff, workers from Skanska Construction, Mason General Hospital & Family of Clinics' CEO, Eric Moll, the Board of Hospital Commissioners and all others in attendance of the ceremony were invited to sign the steel beam before it was placed. Hospital District leadership also took a moment to reflect on the efforts of the construction workers and greater community's support for the project.
With the building's structure visible outside the covered construction fence, the clinic's opening is starting to feel more real for those working at Mason General Hospital & Family of Clinics.
"I think the biggest thing is just how much ownership you see in the construction workers and how much they care about this project," says Mason General Hospital CEO, Eric Moll. "Now that this is becoming more of a tangible project, you see the staff starting to really embrace it, really feel proud about it, too. So, seeing that transformation is just wonderful."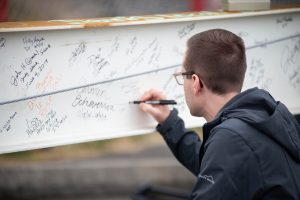 After years of planning meetings and permit acquiring, the completion of the Mason Clinic structure is a significant feat for hospital leadership. Hospital Commissioner, and president of the Board of Hospital Commissioners, Gayle Weston, has been involved in the Mason Clinic project for years and to see the structure complete was not an overnight process.
"It's so exciting," says Weston. "There was a lot of pre-work before we even got to the point where we said yes to go. Financial pre-work, feasibility, we wanted to make sure if we did it, we did it right."
The construction of the Mason Clinic is not just an accomplishment for District executives, but it is also slated to be a significant upgrade for patients. With the new clinic, MGH&FC will be able to further carry out their mission of exceptional health for all.
"We have everybody at one location. That's going to benefit the patients," explains Weston. "It's just one stop to go in for their needs, their x-rays. All the doctors will be in one building and they can get all their care essentially under one roof instead of going from building to building. And plus, ease of location. We all know where exactly the clinic is."
The Mason Clinic will enable providers to collaborate and will reduce barriers for patients to receive care from multiple doctors. "I think the two biggest ways the Mason Clinic is going to help is integrated team-based care," says Moll. "Co-locating all these different specialties together, better communication, better team-based care for patients. Better coordination of patient care. All of that is really going to propel us to a whole other level of excellence and quality. I think the larger building, more modern, more contemporary will allow us to see more patients. Better access, bigger access."
With the clinic slated to open in 2020, MGH&FC will work to facilitate all of the medical practices moving in, with as little patient disruption as possible. "We are hoping for a very smooth transition and we're really focusing on workflows process, so the patient experience is as good as it can be when we move into the clinic," says Chief Development and Communications Officer, Jennifer Capps. "We want everyone to have a great experience and have it be smooth."
With 60,000 square feet of space, the Mason Clinic will also bring expanded services for Mason County patients. Drawing from community input, access to primary care and mental health services will be a top priority upon clinic opening.
"For sure increasing access to primary care," says Moll. "Integrating mental health into our primary care is another big push that the new medical office building will allow us to do, which is a huge community need. And then, we'll also look at new specialty services that this larger space will allow us to consider having."
A portion of the Mason Clinic will intentionally not be built out, to leave room for expanded specialties in the future. In addition to extra square footage in the clinic, the old practices may also be put to use. "The buildings that we're vacating, could be expansion for underlying medical services. So, there's a lot of opportunity," explains Weston.
"Overall, the Mason Clinic will be better for patients, better for the community and better for staff. Just better on all fronts," says Moll.
To learn more about the Mason Clinic and for updates on construction, visit the Mason General Hospital & Family of Clinics website.
Sponsored