Are you tired of your look and want to make a change for the new year? Maybe you've been afraid of trying something new—a new hair color, balayage, highlights or simply covering the gray with a color that flatters your skin tone. Perhaps you've always wondered what you would look like with a haircut and color suited to your face shape and lifestyle.
Fawne Graves, owner of Swank Hair Studio, takes everything into account when cutting and coloring her guests' hair. She looks at how the hair lies, the shape of her guest's head and face, hair texture and lifestyle. "My philosophy is that great style starts with great communication," says Fawne.
She loves the challenge of finding the right style for each guest. "There are many things to take into consideration," says Fawne seated in her beautiful and intimate salon in Olympia.
With today's awareness that women are much more concerned with what they put on and inside their bodies, Fawne uses products that offer low chemical content in both her color line and styling products. Her primary color line contains nourishing ingredients such as honey and orange butter that add shine, nourishes and hydrates. "The technique used for balayage, foiling and color application is just as important as the color products I use," adds Fawne.
Eufora brand styling products boast rigorous standards in formulation utilizing certified organic, pharmaceutical grade aloe vera and nearly 75 different natural plant extracts and essential oils classified as biodegradable. "It is a night and day difference when people not only use a good product but a product that is right for them," Fawne states.
Fawne opened Swank Hair Studio in 2013, but she has over 20 years of experience in the industry. She has the distinction of being one of only 2,600 stylists nationwide to have earned certification from the American Board of Certified Hair Colorists. She is one of only two Certified Colorists in the area. This achievement means her guests receive the "best of the best" in color knowledge. She has traveled around the country to attended trainings in Seattle, Phoenix, Vancouver BC and Los Angeles, just to name a few. During these trainings, she learns techniques in balayage, foil placement, color, cutting systems, up styling from wedding styles to beach waves, and styling for blowouts and for setting curly hair in its natural form.
"The training I have done and continue to do, sets me apart from other stylists – not only from a technical stand point but it's my passion," Fawne tell me. "I feel it is so important to evolve and change as a professional and as an artist."
Her extensive training has taught her many different "systems" of cutting hair. A cutting system is a method of organized execution of a haircut, in which a cut is achieved. "Hair can only hang in three ways, straight, out and under with the exception of curly hair," says Fawne, who has invested hundreds of hours to learn how to use different theories of cutting and coloring. "Using different systems allows me to work efficiently, with less guesswork and accuracy. Guests have more reliable results each time."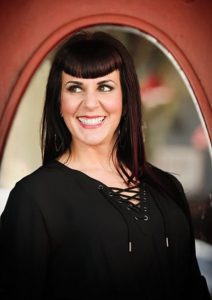 Fawne has a wide variety of guests. She enjoys the diversity of cutting everything from a more conservative professional look to people who want an edgy style. The intimate setting of her salon allows for the guest to feel comfortable sharing their lifestyle. She can get a real sense of how much time and effort a guest is willing to out into their hair. She will spend time with people teaching them how to blow dry their hair so they can get salon results. "We keep working on it until they have the confidence to do it themselves at home," she says. "Blow drying and styling is more in depth then people think, it's a technique. I have taken three day classes on just styling alone."
Fawne Graves is accepting new guests and offers free consultations before she even picks up the scissors to ensure that each guest will get a great style that they can maintain at home. She knows her excellent service, cut and color knowledge and attention to detail will help her guests make the style change they have envisioned for themselves and usher in 2017 feeling fabulous.
Schedule an appointment by calling 360-704-8742 or by visiting her website www.swankhairstudiooly.com.
Swank Hair Studio
2938 Limited Lane NW, Suite B-1
Olympia, WA 98502
Sponsored