When the sun comes out, everyone flocks to the local beaches, trails, and docs of the Hood Canal. It's an outdoor wonderland filled with activities for all ages. Those prime hikes and serene views are a feast for the senses, but there are some sweet treats visitors should enjoy by the spoonful during their visit to the salty shores of the canal.
One of the most established and beloved ice cream companies can be found in the Skokomish Valley – Olympic Mountain Ice Cream. In 1984, Karl and Bev Black sparked a dream to begin an ice cream business like none other. Their fresh, Pacific Northwest-grown ingredients set it apart from any pint you can find at the grocery store. These super premium ice creams and sorbets are available in select locations with varying sensational flavors based on the season.
Hoodsport Coffee Company happens to be one of the many spots you can get a scoop or two of Olympic Mountain flavors in a prime location. Visitors can enjoy this locally made treat in a cone, as a sundae, in the form of a milkshake or malt, and even a packed pint to take home or campsite. It's a must-see after a visit to peaceful Lake Cushman or a hike through the luscious ferns of the Olympic National Forest.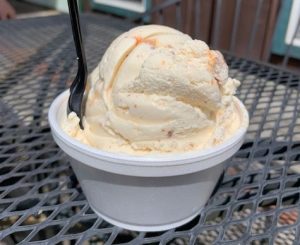 Just across the street in Hoodsport is The Burger Stand. Serving up burgers, fries, and chicken teriyaki to weary travelers, the stand has become a traditional stop for many visitors to the Hood Canal. While the word "burger" may be in the name of this joint, the real star of the show here are their handmade milkshakes and smoothies. Classic flavors like strawberry, vanilla, chocolate, and butterscotch adorn the daily menu for parched customers to consume. It's a delicious end to a day of adventures.
Want a unique, upscale dessert experience? Check out The Restaurant at Alderbrook Resort and Spa. Their extensive dessert menu features classic favorites with a local twist. Brown sugar cheesecake, vanilla bean creme brulee, and seasonal berry crumble are just a few of the tantalizing items available. Along with Olympic Mountain Ice Cream options, the chef offers Canal Crunch Ice Cream. This signature dish includes vanilla ice cream, hazelnuts, caramel, pretzels, and a decadent fudge swirl that will leave guests salivating for more.
Just up the highway, Union City Market offers a one-of-a-kind culinary experience with weekly brunches and a monthly Canal Cookout. During these events, specially curated meals are put together by top notch chefs based on local, seasonal ingredients. Dessert is always on the themed menu and should not be missed. Book early as the seats for the cookouts sell out quickly. The store itself also can be visited for tasty treats ranging from specialty chocolates to fresh, juicy jams.
Looking for an assortment of goodies? Stop by Lauri's Hoodsport Gift & Liquor. Most liquor stores are really only known for one thing, but Lauri's is also known for locally crafted desserts. Chocolates, fudge, and candy from all over the Puget Sound can be purchased here and enjoyed by every sweet tooth. Be sure to peruse the gifts available as well to find the perfect souvenir from a day spent along the canal.
For baked goods, stop on the way to the canal at Olympic Bakery & Deli in nearby Shelton. Bearclaws, strudel, cinnamon rolls, and muffins are just the tip of the baked iceberg at this location. Customers can choose from a number of different types of cookies, cheesecakes, seasonal pies, chocolate eclairs, and cannoli. It's a baked goods paradise! Everything is made fresh daily with personal care in each pastry.