Submitted by Lacey Pocket Gophers
The Lacey Pocket Gophers semi-professional soccer team welcomes their Western Washington Premiere League rival Gig Harbor to North Thurston High School's South Sound Stadium this Saturday, June 22 at 5:30 p.m.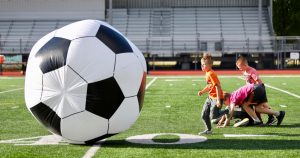 Last season, The Pocket Gophers beat Gig Harbor 3-0 at home and look to have an exciting match with their exciting roster.
"Our squad and Gig Harbor started the league together, so its important that we keep this rivalry going and really show them how competitive we are on the field," said Pocket Gophers President/Chairman Troy Kirby.
The Pocket Gophers have introduced two 6-foot soccer balls at halftime for kids to play with, ensuring that even the smallest fans have a chance to knock the ball around.
"It's about creating a fun, festive environment," said Kirby. "We want people to have an experience and a sense of community when they attend our home soccer matches."
Not to be out-done, the FREE video game trailer is back, which allows fans to have a total e-gaming experience, playing Rated-E games when they've had their fill of soccer.
For tickets, go to www.laceytix.com for details.