It's billed as a "day of a million smiles," but the organizers may need to come up with a different tagline after the success of the 14th annual Kiwanis Day of Champions.

Held at North Thurston High School's South Sound Stadium on May 23, the Day of Champions is a free, all-volunteer event designed specifically for students, Kindergarten through 12th grade, with special needs and challenges. This year saw 650 participants from 40 schools in 7 school districts participate.
"It was a huge success," said Day of Champions Chairperson Karen Schoessel. "I think we doubled or tripled our estimation of the 'Day of a million smiles.' I gauge success based upon the smiles, laughter and sheer joy that we see on the faces of all who attend, the participants, their families, the volunteers and the spectators."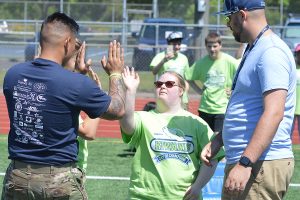 Approximately 420 volunteers, including active-duty military personal from JBLM, Key Club members for seven participating high schools, 146 cheerleaders, school mascots, Lacey Police and Lacey Fire, participated in the event.
"This event is only possible due to the amazing volunteer efforts provided by so many. We really need every one of those 400-plus volunteers to make this work," said Schoessel, who listed the increase engagement of the participants and volunteers as one of this year's highlights. "(The volunteers) were totally focused on making sure that every single participant had a great day. I told them during the pre-event briefing that by the end of the day they would be exhausted and have no voice, a sure sign that they had done everything right."
The event was started in 2003 by Erich Weight, a special education teacher at North Thurston High School, with 150 students from North Thurston Public Schools participating.
"As a teacher and coach, (Weight) watched his special needs student come to athletic and school events and cheer for their siblings and school peers," Schoessel said. "The focus was always on the athletes out on the field or court with his students on the sidelines. His brilliant idea to flip this paradigm and have his special students be out on the field with the others cheering for them was the genesis for all that followed."
Weight and Dr. Steven Kern, who has been the event's longest-term donor, served as grand marshals for this year's opening ceremonies.
"What started out on a small scale 14 years ago has evolved tremendously," Schoessel said. "Each year, more schools were added to the invitation list. Over the past few years, it has included all districts in Thurston County as well as several schools in Mason County. When our registration numbers started to exceed 700, it was obvious that we needed to expand and create Day of Champions events in other counties."
Expansion has already reached Mason County. Over the last year, Schoessel and her committee generated grant dollars for start-up funds and provided guidance to the Mason County, which hosted its own inaugural Day of Champions two weeks ago.
"We want to continue our expansion vision so that this event will be available in all counties in our state," Schoessel said. "There is an expressed interest from groups in Lewis County. In Pierce County, Steilacoom School District already hosts a Day of Champions event. Mason County hopes to expand their event to include more schools and districts. We want to maintain a high-quality annual event that can be replicated anywhere."
Originally being held at North Thurston, Day of Champions moved to Tumwater District Stadium before returning to South Sound Stadium this year to accommodate this year's increase in participant numbers.
"The support of the local community is tremendous," Schoessel said. "The soldiers from JBLM were amazing, high energy and willing to do whatever it took to make this day special for all of the participants. When the cheerleaders and military volunteers lined up to greet the students as they got off their buses, they were all high-fiving and cheering. Several cheerleaders gave the soldiers their pom poms. The kids loved seeing that."
Day of Champions featured several modified track and field events, including an obstacle course, frisbee toss, bowling, football throw, 50-yard dash, shuttle run and relay race, among other events.
"The student volunteers outdid themselves this year, bringing a level of energy and compassion to their assigned tasks that surpassed all previous years," Schoessel said. "It was nice to see so many district officials and military officers attending the event and cheering on these students. Their presence adds to the degree of importance and relevance. It shows the teachers, student participants and volunteers, and parents that this event is important and appreciated."