Austin Mikesh was exhausted. The Tumwater High School senior had just followed up a very physical regulation by playing two equally intense overtime sessions.

Even that wasn't enough to decide the outcome and the match turned to penalty kicks – eight to be exact. Mikesh did his part, scoring a goal in regulation before successfully connecting on his PK as the Thunderbirds put away R.A. Long in the opening round of the 2A Southwest District III boys soccer tournament.
Mikesh, who was still trying to catch his breath after the grueling contest, was sore. He was tired, but above everything else he was elated, and the large grin on his face did little to hide this fact.
"Before the season even started," Mikesh said, "we really wanted to make history this year."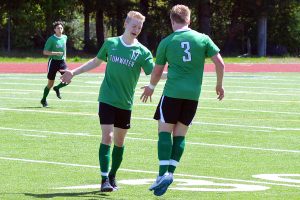 The win over R.A. Long gave Tumwater a season-best sixth consecutive victory. Unfortunately, it also marked the last triumph for the team as the T-Birds fell in the district semifinals two days later, 3-2, to Woodland before seeing their year come to an end in a 3-0 loss to Ridgefield.
The defeat to Woodland saw Tumwater battle back from a 3-0 deficit to get within a goal of tying the match, but the T-Birds could never find the equalizer.
Despite falling one victory shy of achieving their goal of advancing to the state tournament for the first time since 2012, Mikesh and his teammates did accomplish what they set out to do this year.
The T-Birds, who finished with a record of 13-5-1, were 2A Evergreen Conference champions – a title they haven't won since Mikesh's freshman season. The team also joined the 2016 squad as the only Tumwater teams over the last eight seasons to win a first-round district playoff game.
One could easily label those feats as historic.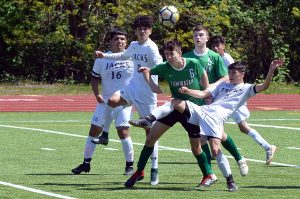 "We've been mediocre the last two years and we just really wanted to turn things around this year," Mikesh said. "The seniors gave it all they had, and the underclassmen really stepped up."
The team's actions didn't go unnoticed as Mikesh, a four-year starter, closed out his stellar high school career being named the EvCo's Most Valuable Player.
Also taking home honors was Tumwater coach Brett Bartlett, who was named the 2019 Evergreen Conference's coach of the year.
In addition to having the conference's MVP and coach of the year, the T-Birds placed four players on the all-EvCo first team and four on the second team.
Tumwater seniors Dakota Seddon (forward) and Zackary Dodge (midfielder) joined defenders Travis Luther and Jack Armour on the first team. T-Birds who were second-team recipients include senior Scott Duboiski (goalkeeper) and juniors Isaac Morgan (forward), Dagm Lester (midfielder), and Joshua Garcia-Van Vliet (defender).
Last year, Tumwater opened conference play a perfect 5-0, only to stumble down the stretch, losing its final three regular season matches to finish third in the standings. The team was faced with a similar situation in 2019 after dropping back-to-back games to Centralia and Black Hills in early April.
Unlike the previous season, however, the T-Birds rallied, winning their final five matches in the regular season, highlight by a 5-0 win over Black Hills, en route to claiming the conference crown.
"Those back-to-back losses were right after spring break. Everyone had tired legs. We took a week off and we weren't there mentally," Mikesh said, "but after the Black Hills loss, it clicked in our heads that we can't just coast the rest of the season, and nobody did."
Right as Tumwater appeared to be hitting its stride, the team lost goalkeeper Duboiski days before the start of the district tournament to a separated shoulder. Sophomore back-up Caden Fine got the start against R.A. Long, and played during the regulation and overtime time sessions, before Dodge took over during penalty kicks.
"One of their objectives after Scott got hurt was to adjust and rally," Bartlett said. "And I thought the guys did a nice job of that."
Tumwater will lose eight seniors to graduation this year. Joining Dodge, Duboiski, Luther, Mikesh, and Seddon are Andrew Belz, Esquiel Hernandez-Tadeo, and Andrew Howe.
"Austin, along with our core group of seniors, have been varsity kids, and many of them starters, since they were freshmen," Bartlett said. "They support each other, and they understand the game. They've just been a great group."
Black Hills, Rochester Players Receive All-EvCo Honors
Black Hills had four players, including three first-team selections, and Rochester placed a trio of players on the 2A Evergreen Conference's all-league teams.
The Wolves had first teamers in senior goalkeeper Trevor Fourtner, senior defender James Morimoto and junior midfielder Evan Ellison, while junior teammate Michael Anderson was on the second team as a forward.
Senior midfielder Anthony Vasquez-Valentine was the lone Warrior on the first team. Named to the second team from Rochester was senior Adan Uribe and sophomore Christian Soria. Both were defenders for the Warriors.