Committee members started to round up their belongings, believing the meeting was over. They had just heard Laurel James present her race design for the 1982 Capital City Marathon.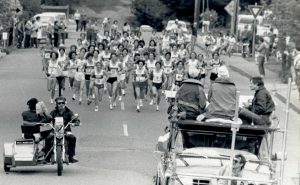 Everyone in attendance was satisfied with her work, and unanimously approved her course.
Only James wasn't finished. Not yet.
"I told them," James said, "there was another race I was interested in."
The idea had been percolating for quite some time within James. It had been formulating ever since it was announced in 1981 that the International Olympic Committee was finally going to add women's marathon to the upcoming 1984 Summer Olympics in Los Angeles.
And you certainly can't have the Olympics without Olympic trials. Major cities had already began vying for the honor of hosting the event. Official bids would be accepted in November of 1982.
They would be short on time, but big on drive, and James kept asking herself, "Why not Olympia?"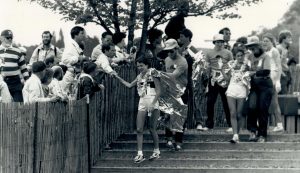 Granted she knew the reasons why, they were plentiful, tops being the overall size of the city, which would be considerably smaller than New York, Boston or just about any other larger metropolitan area that would likely throw their hat into the ring.
It would be an uphill battle. She knew this, and unfaced by this daunting task, she proceeded. "Sometimes you just have to stand up, run off that dock and jump right into the water," James said. "That's what life's about."
James was all in. So was her oldest son, Brent, who would play a large role in the project. But she needed more support. For starters, she needed the backing of the Capital City Marathon Committee. When she presented her thoughts on why Olympia should bid on the 1984 Women's Olympic Marathon Trials, she got the reaction she was expecting.
"They were stunned," James said, "but eventually they all came on board." James was never one to shy away from a challenge. When people told her opening a store that primarily only sold running shoes was foolish, she didn't listen and opened Super Jock N' Jill in Seattle anyways. Next year the store, one of the first of its kind, will celebrate its 45th anniversary.
She took the same approach with the Olympic Marathon Trials. "We knew we were the underdogs," James said, "but we always knew how to get things done."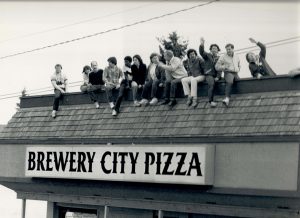 Despite a short turnaround time, James joined a small group, which included then-Supreme Court Justice Gerry Alexander and Senator Slade Gordon, that traveled to Philadelphia to woo the Olympic committee.
Much larger cities were also present. James remembers the representatives that were presenting from New York came dressed in track suits. "Our group was all dressed up when everyone else was dressed casually," James said. "I think they saw how passionate we were about this."
Olympia is Chosen
Once Olympia was selected as the host city, things started to fall into place. Sponsors came signed up and James estimated approximately 4,500 volunteers helped to make the event possible.
A total of 267 runners qualified for the inaugural Women's Olympic Marathon Trials in 1984. Of the 238 starters, 196 participants finished the race, including winner Joan Benoit Samuelson.
All were pioneers for women's running. "Women runners around the world have benefited from the strength of those who ran in the trials here 35 years ago, and from the female athletes who preceded them," said Capital City Marathon Race Director Nona Snell.
Moments after Benoit Samuelson crossed the finish line first in the 1984 trials, her coach, Bob Sevene, crowned her "the greatest athlete in the world." It was hard to argue against his claim. Benoit Samuelson, just 17 days removed from knee surgery, covered the 26.2 mile-distance in 2:31.04.
Three months later she headed to Los Angeles and outran runner-up Grete Waitz, a former world record holder and nine-time winner of the New York City Marathon, to become the first ever women's Olympic Games marathon champion and a national hero.
Pittsburgh hosted the trials in 1988. Houston in 1992. Columbia, South Carolina hosted the race in 1996 and 2000 – the later featuring Olympia natives Kareen Steen and Linda Huyck. The most recent trials took place in Los Angeles in 2016. Olympia remains the only city with a population under 120,000 to host the event for men or women.
"We had so many naysayers that told us we couldn't do it," James said. "Looking back, it really is remarkable what we were able to accomplish and it's something I am very proud of. It's historic."
Indeed, and a history that will be celebrated May 17-19 with a series of reunion events in Olympia, including a pair of dinners that will feature Benoit Samuelson and other women marathon runners who participated in the 1984 trials.
In addition to Benoit Samuelson, the 35th anniversary celebration of the 1984 Women's Olympic Marathon Trials will also feature runner-up Julie Brown, Sister Marion Irvine, who at the age of 56 was the oldest runner in the 1984 trials, and participants Julie McKinney, who recently ran in her 50th lifetime marathon in the 2019 Boston Marathon, and Jacqueline Hansen, the 1973 Boston Marathon winner and keynote speaker at the Friday, May 17 luncheon at the Hotel RL, among others.
"This celebration honors all of the women who qualified for the trials event," James said. "They are all role models and examples for other women to set their sights high."
35th Anniversary Women's First Olympic Trials Marathon Schedule of Events
Friday May 17
Saturday, May 18
CCM Run Fair, Sylvester Park 1:00 p.m. – 4:00 p.m., open to the public
Pre-Race Dinner 5:00 p.m. – 8:00 p.m., Capitol Rotunda, Click here for tickets
Sunday, May 19
Capital City Marathon, Races 7:00 a.m. (awards will be finished by noon)