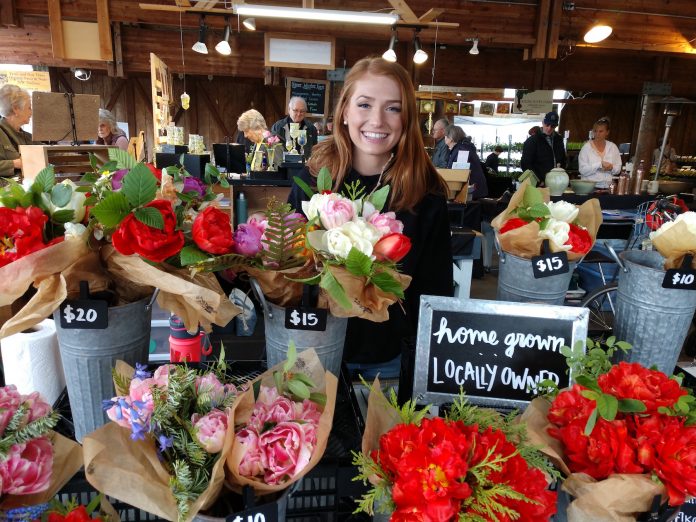 The Olympia Farmers Market is in full swing as better weather is upon us, and that includes adding fresh faces to the fresh produce and local products you have come to expect. Check out the new vendors at the Olympia Farmers Market.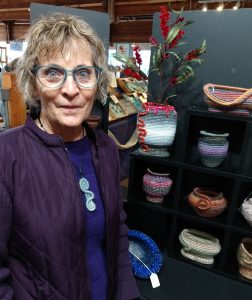 The beauty of spring is in full bloom at Katie's Cuts, where local grower Kate Goodwin has fashioned colorful bouquets. Mixtures of sunny tulips, daffodils, peony tulips, zinnias, and cosmos are vase-ready. Her hobby has blossomed through planting seeds, bulbs and cultivating her property in Olympia. Katie graduated from Washington State University just last May and maintains a full time marketing job. It's a good thing Katie admits she likes to be busy! You'll find her smiling face on Saturdays and Sundays. Her mom, Jodie Goodwin, might be at the market, too, giving a helping hand. Flowers will change as the season progresses from spring to summer and beyond. You can call Kate at 360.789.4571
Yarn potter Linda Shea creates amazing baskets, small containers and wearable art pieces using colorful yarns with parachute rope. Bunny Creek Baskets is new to the Market this season. "I dream up something and then can make it," explains Linda, who adds she is able do things that neither potters nor basket weavers can do. The pieces are made using traditional coiled baskets techniques with non-traditional materials. They are sturdy and beautiful. She uses a variety of yarns made from wool, silk and acrylic and wraps them around the rope. Linda's creativity allows her to incorporate pieces of driftwood. "I love the feeling here," said Linda about the market and she is happy to explain her art to passers-by. You can contact Linda at Bunny.Creek.Baskets@gmail.com.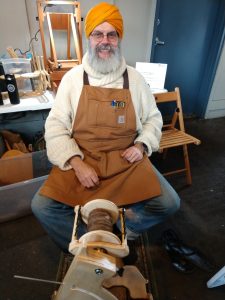 Ajai Singh Khalsa, proprietor of Ironhill Wool Works, will likely be spinning on his Washington-made wheel from SpinOlution when you meet him at the Market. The hand-processed Icelandic wool comes from small local flocks, including his own. Since there is no commercial market nearby for this wool, he gathers it to make yarn that is soft and durable. He is even able to incorporate pet hair or other animal fiber for the creation of thread, yard or finished knit or felt products. Ajai notes that these small local flocks are well tended, and he prefers healthier, more ethical practices. For example, when he shears his animals he leaves some wool behind for their protection and comfort. Icelandic sheep are all star performers. One reason is that they are primitive eaters, consuming blackberries, tansy, broad leaf weeds, and tough grass, which is amazing for pasture management. Additionally, the wool is light but strong. The sheep supply milk and meat, and their babies are very cute. See some pictures and/or contact him through the Iron Wool Works website.
The Olympia Farmers Market
700 Capitol Way N., Olympia
360.352.9096
Sponsored