The placement of Jack Harrison's pass was perfect. From 35 yards out, he hit a streaking Nebeel Imran in stride who proceeded to sneak behind the defense before finding the back of the net during North Thurston's 3-1 victory over Shelton.

A four-year starter, Harrison is the Rams' holding midfielder. His primary job is to break up attacks then turn them into potential scoring changes.
"I don't score many goals usually," Harrison said while describing his role on the squad. "I just try to provide for other people. On defense I just try to shut it down and control the game. I love when I can do that."
It's a job he's excelled at during his high school career.
"I just focus on making my passes, being clean, being physical and just being smart," Harrison said. "To me a good pass is as good as a good goal. I'd rather just make it happen and get wins than anything else."
North Thurston coach Matt Herrera called Harrison "one of the top four players I've ever coached," which is certainly high praise from someone who has seen plenty of talent come through the program during his tenure with the Rams, but definitely well deserved.
"Jack has been an impact player since his freshman year. He has allowed us to play with more offensive players with the formation we use," Herrera said. "His ability allows him to cover his teammates and give more freedom to them to play higher up the field. This year has been a little different for Jack. He not only has a defensive responsibility, but he also starts a lot of the attack with his passing ability. Without Jack, our system of play does not work."
Harrison simply has a motor that doesn't quit, one of many characteristics that make him the ideal player for his position. Whether it's chasing down an opposing player on one side of the pitch or aggressively driving the ball down the other to create scoring opportunities for his teammates, Harrison is a constant blur on the field.
"He reads the game well above the average high school player's typical ability," Herrera said. "His athletic ability goes far, but it's his soccer IQ that separates him from the rest of the pack. He sees the game at a different level, which allows him to impact a game."
Harrison was a first-team all-3A South Sound Conference pick last year after registering two goals and five assists. But his value goes far beyond statistics.
While goals have been at a minimum for Harrison, a spectacular one did occur early in his freshman season that made Herrera take immediate notice of his rising star.
"There is one specific memory about Jack that has stuck with me since he arrived at North Thurston and that came his freshman year against Capital," Herrera said. "Jack made a run forward and he played the ball out wide on the corner of the 18. He took a first time shot with the inside of his foot and bent the ball far post for his first high school goal. In that moment, I could tell that he was going to be special player."
Last year, Harrison was part of a back line that recorded seven shutouts, including a 1-0 victory over Wilson in the 3A West Central/Southwest Washington district tournament. Despite several new faces in the lineup, North Thurston has already notched a pair of shutouts this season with Harrison once again leading the charge.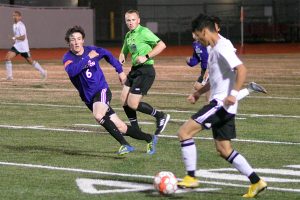 "I just try to go wherever I can on the field to help," Harrison said. "I just have that aggressive press in me. In high school, I can use that physicality in the middle, hit hard, and be good in the air, especially with my size. I try to take that leadership role on the field here. I just try to communicate and pull people into the right spots. We have a young team, especially the back line, so we're just getting everyone sorted."
North Thurston saw its 2018 campaign end in the first round of state, losing to Redmond, the eventual third-place finisher, 3-0. It marked the first time since 2011 that the Rams were able to advance to the field of 16, a feat Harrison strives to duplicate this year.
"We always seem to make that late push in a season," Harrison said. "That's the goal again this year. I think we've been overlooked before, but I like being the underdog. We're always out there fighting."