All parents juggle the work-family-life balance. But for some, it's easier after years of practice. For Katherine Halmos Jones, a lifelong love of competitive Ultimate Frisbee keeps her reflexes nimble and up for anything.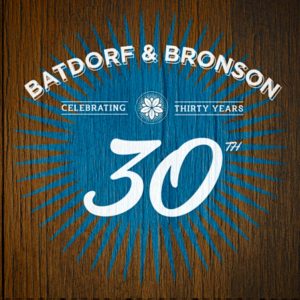 Jones grew up in Marin County, California. A passionate athlete, she discovered Ultimate Frisbee as an undergraduate at Humboldt State University. Ultimate, as it's called by those in the know, began in the late 1960s and is now "played in more than 80 countries by an estimated 7 million men and women, girls and boys," reports their governing body USA Ultimate.
"Combining the non-stop movement and athletic endurance of soccer with the aerial passing skills of football, a game of ultimate is played by two teams with a flying disc on a field with end zones, similar to football," explain the guidelines. "Ultimate is a transition game in which players move quickly from offense to defense on turnovers that occur with a dropped pass, an interception, a pass out of bounds, or when a player is caught holding the disc for more than 10 seconds."
With the University's Humboldt Hags team, Jones and her fellow players ascended the ranks to Nationals, but fell short in the semi-final rounds. After receiving her Bachelors of Science in Marine Biology and Zoology, she worked as a NOAA marine mammal observer throughout California, Oregon, Washington, and Hawaii.
She returned to the sport in San Francisco, playing for No Mayo, then moved to Seattle and "ended up joining in on an amazing ultimate community in Seattle, DiscNW. They're very well organized and I made so many great friends, playing on so many different teams: both coed and women's," says Jones.
Teams take great delight in their creative names, and Jones has played for some doozies. Over the years, she's graced the Tacoma Screw, Yellowdawg, Arabian Black Santas, Fire Swamp, and even national traveling team Naughtybear. They've won citywide championships and even made it to regional play-offs.
"In 2000, Seattle's number one women's team, Women on the Verge broke up—lots of retirement—and some of them along with myself and others formed a new team, Riot, named after the riots that occurred in Seattle back then," explains Jones. "I played with Riot for six years, went to Nationals five times, and won Nationals in 2004 and 2005. Riot won Worlds in 2002 in Hawaii. In 2005, I made coed TEAM USA. Players are chosen from all over the US. We traveled to Duisburg, Germany, to play in 2005 World Games and won the gold medal in a great game against Australia."
During the Nationals in 2005, she was awarded the Kathy Pufahl Spirit Award which is designated to a player "taking into account who has exhibited personal responsibility, integrity, and selfless contribution to ultimate, combined with a high standard of playing ability."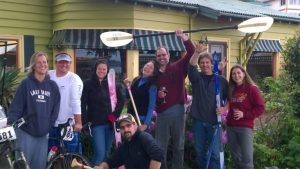 Her final season with Riot was in 2006. In 2005, she'd met the ever-charming Dan Jones and moved to Olympia in 2006 to be with him. They got engaged in 2008, married in 2009, and had twins in 2011. Kids Sierra and Tucker are currently in first grade and love their teacher and elementary school. "Also my parents moved here when I had the twins. We are now an Olympia family," says Jones proudly.
If Dan's name sounds familiar, it's because he founded ThurstonTalk and its regional sister platforms. "Dan pretty much started ThurstonTalk when I was in the hospital after delivering the twins," recalls Katherine. "I am so in awe of how far he has taken his original idea; he works so hard to build his dream. We have lots to be proud of."
Before moving to Olympia, Jones taught school in Seattle for 10 years. Starting out as a substitute, she went on to teach elementary school math and science. After a sabbatical to obtain her master's degree in biology, she returned to high school horticulture, geometry, and chemistry classes.
After settling in Thurston County, she worked at Timberline High School in Lacey for 10 years. "Two years ago got my dream job at Jefferson Middle School teaching in the seventh grade JAMS program. I love it! Such amazing students, staff, and so close to home. Plus my own kids will attend Jefferson."
All in all, it's been an amazing whirlwind of competition and travel. But one made infinitely better with the addition of a well-thrown Frisbee or two.