John Grantham is sitting at his desk scanning through screens of coveted brand names on the PROforma Northwest website. "My wife and I have been in this industry for 30 years," says John. "We worked down in Silicon Valley for a very large company and didn't have to worry about production," he looks up from the monitor, "so this is going back to my roots."
After years of successfully running his own production shop with Budd Bay Promotions and Apparel, John's partnership with PROforma Northwest is taking all of his experience to a new level. "We have a lot more buying power now," says John. "This is the second largest distributor in the industry, so we have the fulfillment capabilities, online stores and a whole staff of artists."
Even though they have always produced a large variety of promotional items, Budd Bay Promotions and Apparel has historically been known for custom embroidery and apparel. That all remains the same, the only difference now is that customers have a lot more choices. A lot meaning somewhere around 5,000 different suppliers around the country. If you can envision it, John can produce and deliver it.
Reimagined and Reinvented
John's innovation and consistent delivery of "very cool" products earned him many long-term business partnerships. Last year, when he looked around at changes happening in the industry, he did what any good business owner does – took stock, reimagined and reinvented his company.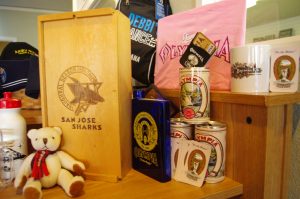 "When you are running a shop and you are training and retraining employees it makes it tough," John says, "and that came with stressors. Now, I am networked so I can share what is going on with 700 other franchises around the country. Someone has a hold-up in distribution, I know about it. There is a new product that is getting a lot of buzz, I hear about that and can share it with my customers here. This is really positive for everyone."
John is already known for his innovative ideas, so this partnership is certain to benefit both new and existing customers. "He always has his finger on the pulse of what is 'hot and popular,'" says Brian Fluetsch of Sunset Air. "I have used John as my go-to-guy for promotional items and logoed apparel for as many years as I can remember."
Doing What You Enjoy Most
For John's part, this is a dream come true. Though management was something he was always interested in, sales is where his heart is. As any small business owner can attest to, once your company starts growing, it is often difficult to continue doing the part of the job you enjoy the most.
Closing Budd Bay Promotions and moving to PROforma Northwest also brings in the new franchise framework of PROforma Albrecht & Co., which will provide all of the back support of bookkeeping and accounting. "It just makes sense," says John, "now our staff can really focus on the customer relationship." For John, that means going back to what he does best – sales. What really appeals to him is being able to continue serving Thurston County while expanding his territory. After all, Lacey is home and he has built a lot of strong ties in the region.
Cortny Martin, community relations for North Thurston Public Schools, has worked with John for years. "He has been great to work with, "says Cortny. "His kids all attended North Thurston public schools and he is a big supporter of the district." In addition to being a good business partner, the school asked John to become a district Partner in Education to help with student success. He frequently makes donations too, shirts and hats for the district's compassionate learning campaign and banners for the schools. "He is always willing to help, whenever we ask," she adds.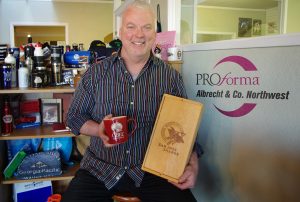 "It's pretty fun to get excited about sales again," says John. "We cover Portland to Seattle, most of our accounts are here, but we have a lot of customers in between. And, we are going to be recruiting sales reps soon."
John reaches into a shelf and pulls out an old ledger. "Take a look at this," he says, "I have been keeping records since the beginning." He smiles as he reads the names, "Atari, Cisco Systems, Nordstrom," he pauses, "The San Jose Sharks from October 1990." Every entry is neatly handwritten with the date and service. "Some good memories here," John lingers on the old names just a moment before he closes the book.
"We've become more of a full-service promotional agency," he says standing up. "We're adapting and changing with the times. And that's pretty exciting."
PROforma Northwest & Albrecht Co.
6715 Martin Way E, Lacey,
Monday – Friday: 9:00 a.m. – 5:00 p.m.
Saturday – Sunday: Closed
Phone: 360-705-4585
Sponsored