The word "farming" brings to mind huge tracts of land, green fields, and imposing machinery. But it's actually happening all around us. Thanks to partnerships like Our Common Home Farms in Olympia, fresh produce is popping up year-round from homesteads across the region.
Our Common Home Farms (OCHF) is a collaboration between Saint Martin's University , a Catholic, Benedictine university, Pope John Paul II High School, and community farmers, churches, and civic groups. OCHF strives to "provide nutrient-dense, locally grown, and ethically produced food within our community, especially for those in most need. To educate on sustainable agricultural practices… [And] to build climate change resilience in the areas of food production, the creation of habitat, and the mitigation of climate change processes."
Saint Martin's University's Dr. Jeff Crane, dean of the College of Arts and Sciences and interim dean of the School of Business, is a co-manager of the farm with Pope John Paul II Teacher Stephen Holland and two Saint Martin's faculty, Associate Professor of English Dr. Julia McChord Chavez and Assistant Professor of Biology Dr. Sam Fox. "The partnership and collaboration is key," says Crane. "Connectivity is as important to community health as it is to ecosystem function. Saint Martin's University faculty, staff, and students have provided crucial support with service, service learning, infrastructure, and management of finances. Pope John Paul II has been a key partner with their strong commitment to service."
On many projects, it can be hard to see the fruits of your labor. But not when working on a farm! Last year alone, OCHF donated nearly 5,000 pounds of produce throughout the community and this year's goal is 12,000 to 15,000 pounds. They are also documenting their overall efforts to "create a working model for a sustainable community farming operation that can be taught and emulated in this region and elsewhere."
OCHF sends produce to Catholic Relief Services' Community Kitchen in Olympia, Saint Leo's Food Connection in Tacoma, Sacred Heart Food Pantry, distribution on Saint Martin's campus for students and staff, and Senior Services for South Sound.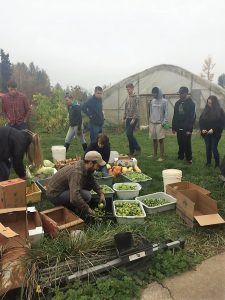 All of the work at OCHF's multiple growing sites is done by tireless—if often muddy—volunteers. Saint Martin's students also participate – one recent group found themselves fleeing the advances of a large and particularly amorous tom turkey.
Saint Martin's Associate Professor of English Dr. Julia McCord Chavez brings classes to the farm as well, using it to promote service learning among her students. "One of the exciting aspects of this project, for me as an educator, is to see the intergenerational connections that are facilitated by farm work," says Chavez. "On large service days we have college students, high school students, young children, parents, and grandparents all working together. This produces the possibility of many teachable moments, as the young learn from the more experienced, but also as the more experienced learn from the fresh perspectives of younger generations."
In the future, staff would like to expand production by adding additional sites and increasing the variety of vegetables, berries, fruit, and nuts harvested. They also want the farm to be self-sustaining through selling community supported agriculture (CSA) shares, increasing u-pick and farm stand sales, and seeking additional outside grant and donation funding.
It's easy to donate and become a sponsoring Carrot, Corn, Tomato, Strawberry, or Cantaloupe. These deliciously named giving levels support the purchase of seeds, fertilizer, equipment, new plants, land and water expenses, and offer internships or scholarships related to the program. "We also are looking to build more curriculum around the farm program," explains Crane. "That means classes at the farm sites, but also a potential minor or major at Saint Martin's University."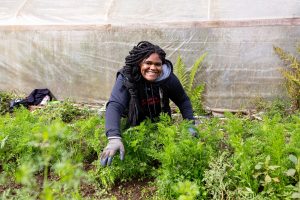 Benedictine values focus on stewardship, hospitality, community, and the dignity of work. "We seek to address hunger and educate on food justice issues while also addressing climate change through building food and ecosystem resilience in the South Sound region," says Crane. "We know that we are part of a broader and diverse community working on this but we bring a powerful Catholic perspective on stewardship and care for the poor into our work and services."
"My favorite part of visiting is the opportunity it gives me to have quiet, unplugged time," admits Chavez. "Even tasks like weeding are rewarding to me, as this contributes to our collective goals. Right away I saw that this was a way to connect our modern secular life with the monastic tradition we were studying. Students loved the experience and so I've been able to incorporate it into several subsequent courses."
Find OCHF's farm locations, sign up for their CSA, and follow their planting calendar online. Call 832-248-9232 or email ourcommonhomefarms@gmail.com with questions about buying, volunteering, or supporting their team. You can also support OCHF by donating and becoming a sponsoring Carrot, Corn, Tomato, Strawberry, or Cantaloupe.
It's been reported that "The average American city on average needs to dedicate just 10% of its city limit area to urban farming to produce the entire recommended vegetable intake of its population." Thanks to Our Common Home Farms, we're well on the way to that vital—and tasty—goal.
Sponsored