There's a point in winter where your body and soul are just done. Done with dark, damp days and long, cold nights. "Spring won't let me stay in this house any longer," lamented composer Gustav Mahler more than 100 years ago, "I must get out and breathe the air deeply again."
It's nice to escape the house now that Snowpocalypse 2019 is over and days are getting longer and lighter. But since we can't stop and smell the flowers for a few more weeks at least, consider a jaunt to the nearby Little Creek Casino Resort. There you'll find concerts and comedy, fine dining and Mardi Gras festivities galore.
Fat Tuesday
On March 5 for those outside of New Orleans—head over to the annual Little Creek Mardi Gras Party. The fun runs from 6:00 p.m. to 10:00 p.m. at the on-site Skookum Creek Event Center. Eager staffers turn the center into a colorful recreation of the famed Bourbon Street complete with live music, food and drink specials, and games galore. Come for the dueling pianos, stay for the purple, gold, and green beads and mask-wearing fun.
Tickets for Mardi Gras are $10 and include a souvenir Hurricane glass. Purchase them online or at the Players Club window. Llaissez les bon temps rouler all the way into spring.
George Lopez Live
Tax day 2019 lands (with a thud) on Monday, April 15. But hang in there until Friday, April 18 and reward yourself by using your tax refund to snag tickets to world famous comedian George Lopez. Writer, producer, actor, and all-around funny man Lopez will put on two shows that evening, at 6:00 p.m. and 9:00 p.m. This is a 21+ event and tickets range from $30 to $60. Don't miss out on this Grammy-nominated comedy from one of our country's funniest performers at a venue less than 15 minutes from Olympia.
Texas Tenors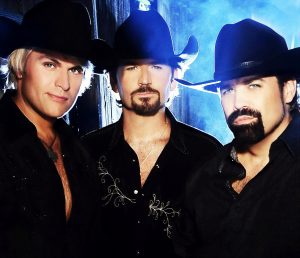 In May, sit back and enjoy the dulcet arrival of the three-time Emmy Award-winning group, Texas Tenors. In less than 10 years, this trio has conquered contemporary music. They describe their music as classically trained and supremely versatile. After getting a start on America's Got Talent in 2009, the group – comprised of JC, Marcus and John – have had a success career, including the release of four ablums, two PBS specials, four DVDs, multiple sings and even a children's book. Aside from their Emmy wins, they garnered The Gelett Burgess Award for Excellence in Children's Literature and the distinction of being Billboard Magazine's 2017 #10 Classical Crossover Artist in the World.
The Tenors descend on Little Creek at 8:00 p.m. on Saturday, May 11. Tickets are $30, $35, and $40, available online, and guaranteed to make you swoon.
Waves of Perfection
Once the music fades, get ready to enjoy Waves of Perfection. This year's elegant fundraiser for the Squaxin Island Museum takes place on Saturday, May 18. The Museum is more than simply a cultural repository. Monies raised at events like this benefit educational programs including Native language instruction, storytelling, classes, research, and activities such as basket weaving and woodcarving.
During the fan favorite event, top-notch chefs pair hand-crafted food with wines poured and curated by a master sommelier. These are expertly paired with fresh seafood, artisan cheeses, and decadent treats galore.
Look for afternoon classes and instructional sessions as well as discounted rates at the newly renovated Little Creek Hotel and Resort. Rooms and suites are adorned with tribal artwork, HD TV's, and optional in-room fireplaces and jetted soaking tubs. Call 800-667-7711 to reserve your room now and mention Waves of Perfection to learn more about related specials. Make it a truly luxurious night to remember by adding in spa treatments or 18 holes of award-winning golf when you book a suite.
Meteorologists insist that winter is officially only 90 days long. But when storms rage, snow knocks out power, schools are closed, and the holiday buzz is gone, it feels much longer. Little Creek's amazing dining, year round entertainment, gaming specials, golf course, and Seven Inlets Spa are the perfect anytime getaway. Escape for the afternoon, evening, or weekend, there's always something for everyone.
Little Creek Casino Resort
91 West State Route 108, Shelton
800-667-7711
Sponsored