Warning! Do NOT try this at home. What is the fastest you have ever travelled on land? 75 – 80 mph? How about 147.3? On a motorcycle. On a salt flat. While speed is not important for everyone, to some, highly competitive speed done well is close to nirvana.
For Ron Shincke Sr., nirvana is the Bonneville Salt Flats in Utah. He and his son, Ron, have been making the trip there off and on for the past 15 years, each time getting closer and closer to breaking the land speed record with their Harley Davidson motorcycle.
"There are a lot of risks in life," declares Ron, thoughtfully. "Being a contractor and having your own business, that is a risk." Ron ran his own companies for over 50 years, mostly involving heavy equipment, road building and underground utilities. Hard work.
"And this is a risk," he adds, gesturing at the showroom of his son's business, Town and Country Roofing. "Ronnie started this roofing company on his own. He had a mentor who helped him a lot. When he started out he worked with me and then for other big contractors as a supervisor. He had good experience. When he told me he was going to be a roofer my mouth dropped open because it is so different from what we have done in the past – the steel work and the dirt work – but it has obviously worked out for him."
Ron's trim physique belies his 75 years. Lanky and amiable, he is relaxed and open. Until he starts talking about motorcycles. Then he leans forward intently. "I have motorcycled my whole life," says Ron. "My dad was into bikes so I have been riding since I was 16- or 17-years-old. It was the old Ariels and BSAs that we had. I think I was probably around 21-years-old when I started flat track racing on a 250 Honda. There was a guy in Tenino that had a motorcycle shop and he sponsored me, Roy. He was into racing too."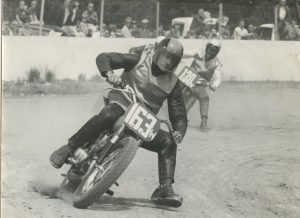 Talk to any veteran racer in the area and they can tell you about the golden days of local racing. Chehalis, Rainier and Bush Prairie's Lucky Spokes were all big into racing. And, believe it or not, Castle Rock, which was part of the national racing circuit. It seems you couldn't throw a rock without finding a race track.
National Champion, Mike Sullivan, recalls those early years of local flat track racing. "It was real close racing," he says. "They would have the steel shoe on the left foot to slide with so you wouldn't catch. Most of the corners were left-hand corners. And the leathers, they did not have much padding. A little extra on your knees and elbows, that was about it."
After marrying and starting his own business, Ron hung up his race leathers. "The children, the business," recalls Ron. "Racing is expensive and there was the mortgage. I was away from it for about 15 years. After that, Ronnie (Ron Jr.) and I always had bikes. The family always called us Big Ron and Little Ron but he has obviously outgrown that." Both men easily stand over 6 foot and are comparable in build.
This pair rely on each other in different ways than most children and parents do. In addition to their trips to Bonneville Salt Flats for Speed Week they share another passion that is bristling with risk, mountain climbing.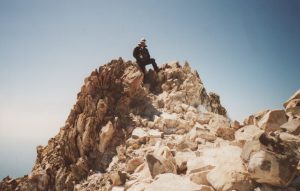 "I was doing a lot of white water rafting and one night a guide named Scott Anderson and I were sitting around the campfire," recalls Ron. "He started talking about climbing and said, 'Hey, I think you would like it.' Next thing he and I are out climbing all the time. He used to joke that he created a monster."
Ron has since climbed Rainier, Baker, Adams, St. Helens, Hood and Shasta, all from several routes. Many of these climbs he has done with his son. Now, he has set his sights lower and faster, the Bonneville Salt Flats at 4,200 feet and 150 mph.
There are many classes for cars and bikes trying to break land speed records. For Ron, the 1000cc class is what he has been racing. In this A-P/G class he is not allowed to streamline the frame or soup-up the fuel. And since it is the P, or pushrod class, their Buell engine from Harley Davidson will be competitive. Through it all, his son has been there with him.
"There have been times we have been down there twice a year," says Ron Sr. "So probably 15 times all together. We are running the same bike, but we are maxing out the motor. We went 147.3 and we need to go 3 mph faster. It's all about horsepower."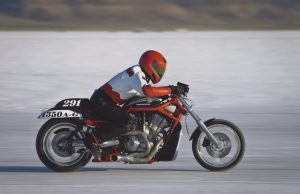 Helping Ron squeeze that last 3 mph out of the engine is Dyno Steve Performance, owned by Steve McConnell and his partner, Joel Heiman. "All four of us have been working on it all year long," says Ron. "We have been real close to breaking the record a couple times now."
All the preparations aside, there is only one person that is on the bike at the start line. People say it is difficult to tell how fast you are going when racing on the Bonneville Salt Flats. It is an all-white expanse with no fixed objects to calculate distance or speed. And then the finish line.
How does the race work? "You just line up and go," says Ron. With a laugh he leans back in his chair,
"They don't cut you any slack."
August will be here before we know it. For now, Ron is working at Town and Country each day, helping out his son. Exercising each day and staying in shape so if something does go wrong he is fit enough to survive a crash. Eating well, working on the bike. Waiting.
Sponsored