There is growing enthusiasm by parents and educators for early childhood education (ECE) that recalls a time when all children learned by being outdoors.  Local ECE centers and programs are creating environments where learning is encouraged through extended time outdoors coupled with a respect for nature and each other. Curiosity is cultivated through movement, singing, exploring and communicating.  In current times, as children grow more attached to their electronic devices and spend more time indoors and are sedentary, parents are looking for ways to get their children unplugged and excited about being outside. For Thurston County parents, there are several choices when it comes to alternative early education.
Sequoia's Treehouse Children's Center
Kelly and Sean Leonard enrolled their son André at Sequoia's Treehouse when he was 18-months-old. Initially they wanted a gentle, caring place for their very young son. Kelly remarked that she could feel the difference the first time she walked into the school. Now, André has grown into an active 4-year-old. "He's high energy, creative and asks a lot of questions," said Kelly, who appreciates that the Treehouse provides a place where childhood is "what it is supposed to be like." "He's really thriving," added Kelly. The children at the Treehouse have ample areas with play structures that encourage imagination, gardens, a few acres of wetland space for nature exploration in addition to 3 pigmy goats, a bunny named Thumper, a goldfish, and two hermit crabs to care for.
Kelly and Sean's son's severe allergies added another level of concern. "They have been amazing," said Kelly and added "Sequoia goes the extra mile. She really cares about the space she is creating for kids." When André gets home, he likes to talk about what he's done that day. Science, math, and writing are incorporated through child-directed activities and provocations.  Kelly noted that André has already picked up the alphabet plus math concepts. André's parents agree about Sequoia's Treehouse, "We love it." An additional benefit of Sequoia's Treehouse has been connecting with other like-minded adults and making friends. The Treehouse is like part of the family.
Acorns NW Forest School
Acorns NW provides a half-day, full-day outdoor program. Amy Ford and her son Zach loved being there. Amy was impressed with the Teachers' exceptional knowledge of plant and bird identification and even animal tracking. Zach would come home exhilarated by his day's activities. Carving sticks and making bows and arrows remains one of his favorite memories. He also liked making friends. Zach attended for two years and has continued with his willingness to go outside regardless of the weather. Amy also appreciated the opportunities to meet with the other parents who all kept the flow of boots, pants, wool socks and other gear in motion as children outgrew pieces. Like Kelly, Amy emphasized the lost art of being outside and breathing the air. ACORNS NW may not be a main stream early education choice, but as Amy added, "I'm not a main stream person."
Bird Song Children's Garden
Waldorf Teacher Aimee de Ney wears many hats, including owner, director, teacher, and founder, to name a few. Bird Song Children's Garden is a Waldorf program with a strong emphasis on being outdoors. Reverence and delight of the natural world provides a foundation for the development of sensory growth and integration. "I love the children, I love the work," said Aimee who expresses gratitude about being able to work with children who learn to make connections with their own selves, the community and the earth. The hands-on exploration is a healthy way to grow. There is story telling with puppets along with traditional and made-up songs. A safe environment is provided for the children to ask questions and seek answers.
The mixed age kindergarten spends two days in the garden, a day in the forest and time at the beach and on nature trails and parks. The on-campus garden is abundant with growing fruit trees, herbs, and vegetables. Rabbits live there, too. The children get to grow food, bake bread, paint with watercolors and do other handcrafts. Aimee wants children to experience the beauty and magic of the world and inspire open-ended curiosity.
Nature Nurtures Farm
Sisters Nicole and Julie Peters started Nature Nurtures Farm, a hands-on learning experience with nature-based play. Teacher Alyssa Merkle earned her master's in anthrozoology, which studies the interactions between human and non-human animals. She also studied the history and science of childhood emotions. "It's a wonderful, dream job," Alyssa expressed joyfully. The farm has 23 acres including an animal sanctuary. Children get to learn firsthand about pigs, donkeys, peacocks, chickens, and alpacas. Their current enrollment tops off at 55 and Nature Nurtures is expanding to a second location that will accommodate 120 children.
Nature Nurture offers programs for children from 12 months to 18 years. Aimee has two children of her own, a newborn and a 2-year-old daughter, who is enrolled. "I have seen her thrive socially and communication-wise," said Aimee. She explained that since animals don't speak, children must pay attention to the animals' movements and body language and make adjustments to their own actions. It becomes critical to monitor your own behavior. Children learn to be quiet, self-sooth and gain awareness of others.
The Olympia Community School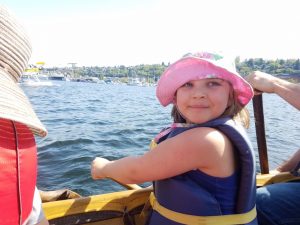 The Olympia Community School has been tending to students for the past 45 years. It started as a co-op of Evergreen professors and evolved to teachers with 32 students this past year. In addition to the early learning classes, fourth and fifth grade levels were added four years ago.
If you are looking for a way to instill in your child a love and respect for themselves, others, and the Earth, all while learning the skills they will need to be successful in academia and in life, check out these amazing education centers that are sure to make your child not only love the outdoors, but love learning as well.
Sponsored