In an increasingly digital world, where technology solutions often seem to come with their own complications, consumers expect digital media providers to be at the forefront of innovation while still providing great levels of customer service to meet their needs. So how are businesses responding? A 2018 Customer Experience Study shows 35 percent of business have already invested in emerging technology like artificial intelligence (AI) to improve interactions with consumers, and additional 53 percent plan to invest in them over the next 12 months.
As a leading cable and technology provider, Comcast has been ahead of this curve, utilizing AI to develop new technology that improves customers' overall experience and the service they receive from the company.
Piers Lingle, Comcast senior vice president of customer experience, recently sat down with us to talk about a few of the latest customized features and solutions the company has developed. Lingle himself was raised in nearby Bellevue, Wash. for a portion of his childhood and still has connections to the region, giving him firsthand knowledge of the standards of customer experience needed to impact our local community.
"Customers in the Puget Sound have come to expect technology to be a part of their lives, but they also demand that the technology is useful, and not just a passing fad or silly gimmick. To meet this type of demand, my team consistently works to develop useful systems that will fulfill the needs of consumers in tech savvy regions like Washington state," noted Lingle.
Lingle's team looks at the different ways Comcast can use the latest in technology to identify both problems for customers, but also opportunities to help customers get the most out of their service. They do this by looking at customer experience interaction in three key ways, responsively, interactively, and proactively, and develop tools to meet each of those unique needs.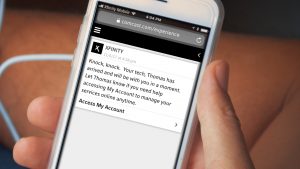 To be responsive, Comcast built the Voice Remote to react to the customer in real time. To be proactive, they developed RealTime Assist, a technology that allows them to provide timely service updates to the consumer through text messages. And to be interactive, they developed Xfinity Assistant, to both relay information, but also receive input from the customer.
Responsive: Voice Remote
The Voice Remote has become a part of customer's technologically connected homes. The Voice Remote takes advantage of AI technology, which allows it to listen to commands and respond in real-time. What's more, this technology actually learns from a customer's unique needs and commands, and over time can suggest responses for the user based on their previous searches and requests. Not only does it learn and adapt to each customer providing a great customer experience, but the AI technology it uses has been useful in creation of the Xfinity Assistant and RealTime Assist to meet the customer's needs in other ways. Lastly, these features also make Comcast's service more accessible to those with visual impairment, especially when combined with Comcast's Talking Guide.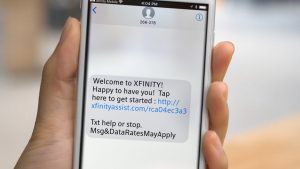 After compiling input from customers' experiences, Lingle and his team found that customers wanted more proactive real-time information relevant to their installation process, repair appointments, network maintenance and equipment updates. For example, Comcast knew that moves were a stressful time in people's lives, so when a customer was moving from one location with Comcast service to another they had many different things going on with their move. After research the team recommended increasing and changing the way Comcast was interacting with customers during a move from a single email to real-time, proactive communication through their RealTime Assist platform. RealTime Assist provides updates about technician appointments, equipment updates, self-install kit deliveries, network upgrades, and planned maintenance windows all through text messages, the MyAccount app, or X1 – whatever the customer prefers. Now, customers can get the information they need in real-time via a preferred, accessible communication channel.
Interactive: Xfinity Assistant
Lingle also learned that customers expected increased interaction with communications. "Customers didn't just expect to receive a message," he says, "they wanted a way to communicate back." That led to the creation of the Xfinity Assistant.
Lingle points out that the Xfinity Assistant has allowed customers to more simply, quickly and easily solve their problems. If the customer prefers a human agent,  they can be seamlessly transferred to one who has access to the full background on their issue through the Xfinity Assistant. Both interactions with the Xfinity Assistant and the handoff to an agent has increased customer satisfaction.
With new technology evolving all the time, a challenge can be developing solutions and implementing a system that is useful for consumers before the next best thing comes along and the solution feels obsolete.
"We're a technology driven company," says Lingle. "One of the benefits is actually the speed at which technology evolves. Many times, the vision for solutions has been there, but the time table for the development of the technology has been months out. But as advancements were made in technology we could increase the pace of new technology developments. This allows us to deploy solutions months early, ahead of their originally scheduled release."
Customers in Washington have embraced the new technologies made available by Comcast. In 2018, 116,000 customers interacted with the Xfinity Assistant, and Comcast started 642,000 conversations with RealTime Assist. To learn more, visit the Comcast website.
Sponsored