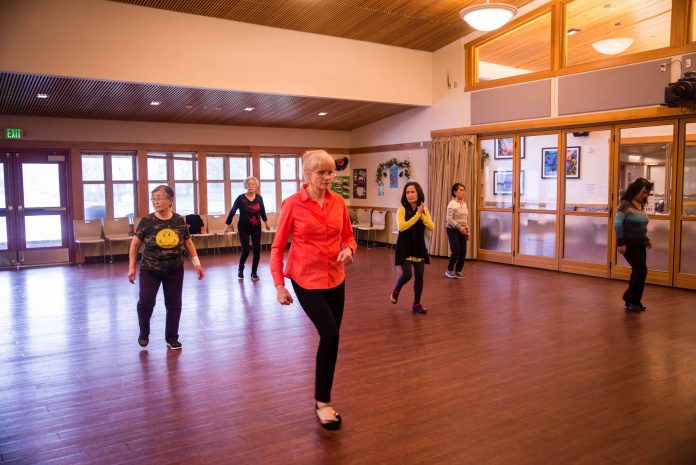 A variety of programs and services await for South Sound seniors at the Virgil Clarkson Lacey Senior Center. From games and language classes to crafts and line dance, seniors have access to activities from morning to evening. The Lacey Senior Center is a lively community filled with active, engaged people who have bonded through shared interests, while looking out for each other's well-being.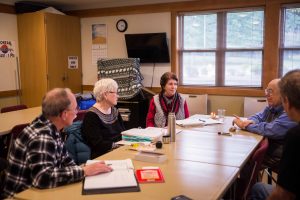 The Senior Center is located in the Woodland Creek Community Park, next to the Lacey Community Center and other City of Lacey programs and services. The Center is operated by the non-profit organization, Senior Services for South Sound. It is a valuable resource for the community because many needs can be met all under one roof, from finding a meal to finding a friend. "We are here for people who would otherwise have nowhere to meet up," says Jill Rector, manager of the Lacey Senior Center. "Our mission is to improve the quality of life for seniors as they age. We do everything. Fitness classes, social services. We do academic classes and interest groups. We really try to meet the needs of our seniors."
The Center provides activities that keep both the mind and body engaged. Some of the classes include language and conversation groups, art groups for watercolor painting and zentangle drawing, guest speakers, writing groups, and the very popular Traveler's Tea, where attendees can help plan and learn more about trips organized by the Senior Services for South Sound. The Center offers endless options to learn line dance, yoga, tai chi, and Zumba. They even have exercise classes catered to individuals with certain health conditions like Parkinson's disease. Dance Socials are a popular option, including for Senior Center Volunteer, Janis Turner. "We have dance with live music onstage every Thursday afternoon," says Turner. "People come in and dance and they don't have to be a member."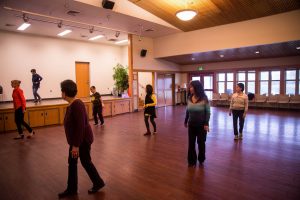 There are services for every ability and health condition, including those with dementia, Alzheimer's, or other cognitive challenges. The STARS Adult Day Program enables both seniors and their caretakers to stay active and socialize with others. The Inclusion Program also provides custom services and mentoring for seniors with intellectual challenges.
The Center is not only a venue where seniors can socialize, it is also a place they can connect with vital health and social programs. There are options for people with diabetes, including foot care. Resources are available to connect seniors with transportation services and also to find caregivers through Care Connection. Seniors can also utilize the food bank that regularly sets up inside. "We have a food bank here once a month," says Rector. "So, if you can't get downtown, you can sign up for the food bank that comes here."
Another significant program based out of the Lacey Senior Center is the Meals on Wheels program, that delivers food to seniors who are homebound and may not be able to cook for themselves. "People will have at least one good, hot meal each day," says Sharon Foister, Senior Center volunteer receptionist and Meals on Wheels driver. "The people we deliver meals to are not always people who can't get out of the house, sometimes they just can't stand long enough to cook. And, as a driver, I feel like I check in on them at least once a week and if they don't answer the door I want to know why. I want to make sure they haven't fallen."
The participants at the Lacey Senior Center aren't just seeking services, they  also want to give back to the community. "Another thing we do here very well is we have a drive for Homeless Backpacks, a charity who supports students in the area," says Rector. "We give them food according to a list of things they gave us. Recently, we held a drive for warm clothing for the homeless. We do a lot of drives that way. The people here are very generous. And they don't even think twice about it. It's amazing. There are people who have big needs and people who have big hearts. And here is where the two meet."
What is so special about the Center is the sense of comradery and family that is cultivated between the seniors. "Some of the people said they would be home napping in front of the television if they didn't come here," says Foister. "They are really grateful to be here and I never dread coming here."
The community created at the Center is also important for the health of the seniors as they age. "They say that senior isolation and loneliness can be as deadly as smoking fifteen cigarettes a day," explains Rector. "We try to combat that. Big time. There is so much to be positive about your health when you have a support group. We are not just a center. I think about us more as a family. We are a big family and we love our people. We take care of each other. That's what a lot of people need. We have people with no relatives and they tell me 'I have nobody' and I say yes you do, you have us."
To learn more about the many activities and services available at the Virgil Clarkson Lacey Senior Center, visit the Senior Services for South Sound website.
Sponsored