When concert pianist Robert Jorgensen takes the stage at Washington Center for the Performing Arts on February 10, he'll be surrounded by current and former students – both in the audience and as members of the Olympia Symphony Orchestra.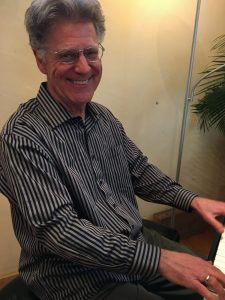 Jorgensen, a local icon, composer and music teacher who accompanied students for 13 years at the University of Puget Sound, will be performing Grieg Piano Concerto in A minor, Op. 16 as part of the symphony's Lovers Lane concert leading up to Valentine's Day. "I have a lot of friends and colleagues in the symphony," says Jorgensen. "Some are people I accompanied when they were kids as part of their lessons."
The matinee concert will kick off at 3:00 p.m. with Mozart's "Overture to The Marriage of Figaro," followed by the Grieg Concerto and ending with Brahms's Fourth Symphony. Guest Conductor Anthony Spain of the Northwest Symphony Orchestra will lead the orchestra as part of an exchange with OSO conductor Huw Edwards.
Executive Director Jennifer Hermann believes the concert will give Jorgensen's current students an opportunity to see a different side of their teacher. "He has a lot of trust with the younger generation," she says. "He's often in a supportive role as an instructor or accompanist. I think it will be very inspiring for these kids to see him in the spotlight."
Both Jorgensen and the Grieg concerto are a good fit for the Lovers Lane theme on multiple levels. "We try to have a variety of soloists and concertos, new pieces and familiar favorites over the course of the season," Edwards explains. "We'd done "Rhapsody in Blue" with Robert several years ago and I remember him asking me if we'd like to do the Grieg piece, so when we were looking for something to fit in with this program, he came to mind."
Edwards deliberately structures concerts like Lovers Lane to bring audience and musicians together around pieces they know but then expand their awareness with less familiar compositions. "'The Marriage of Figaro' is recognizable, but Huw will also stretch the audience and introduce them to something new," says Hermann.
The same is true of the orchestra, she contends. "He carefully considers the development of our professional musicians. They've dedicated their lives to their craft, and they desire to grow, so he challenges them and stretches them as well."
For those unfamiliar with Grieg, Jorgensen excels at connecting with an audience, she notes. "He's fun. I enjoy watching him play because he looks like he's enjoying himself. He has this unique quality where he invites you into his joy."
Jorgensen describes it a bit differently. "I'm trying to get this music across to the audience from soul to soul," he says. "There are no words. When I play, I need to be present with my heart and imagination as well as my complete technique." In terms of the Grieg concerto, attendees are in for a treat, he contends. "I'm excited about playing with my many friends in the orchestra to bring this poetic and lyrical masterpiece to the Olympia audience. They will be inspired by the sheer beauty and power of it."
The decision to make the concert a matinee was deliberate, Edwards notes. Because it will end by 5:00 p.m., parents can bring their children and anyone who struggles with driving at night can safely attend.  "We're trying to play the great classics and appeal to a wide and diverse and intergenerational audience," he says. "For a Sunday at 3:00, we hope this is a very attractive concert."
Making symphony music accessible is clearly a priority for OSO. Outreach efforts include collaborations with local schools and senior service organizations such as Panorama and the Senior Center, as well as partnerships with downtown Olympia businesses. One key program, Music for All, provides free tickets for students and their entire families if they are in the free and reduced lunch program in Thurston, Mason or Lewis Counties. Columbia Bank helps to fund the program. "All a family needs to do is contact us," says Hermann. "We protect their privacy."
The Olympia Symphony is also offering free tickets for furloughed federal employees. Visit the Washington Center for the Performing Arts Box Office (Tuesday-Saturday 12:00 p.m.-5:30 p.m.), present a government issued ID, and receive two complimentary tickets.
First-time concert goers are often concerned about what to wear or how to behave at the symphony, she notes, but they need not be. "We have a very welcoming and informal approach to audience atmosphere at our concerts," Hermann shares. "It's not about appearances. It's about listening to music and experiencing it with the people around you."
For anyone considering attending but not yet committed, Jorgensen has a piece of advice. "Don't be afraid to come and just open yourself to the event and let it speak to you."
Panowicz Jewelers and Bittersweet Chocolates are donating jewelry and chocolates for a Valentine's Day Raffle at the concert for an extra sweet treat. And, Bittersweet Chocolates is going to open on that Sunday, following the concert, so patrons can purchase chocolates for Valentine's Day. They aren't usually open Sundays, so take advantage of this special day and get your sweetheart – or yourself – a heavenly piece or two.
Learn more about the Lovers Lane concert at the Olympia Symphony Orchestra website or by calling 360-753-0074.
Sponsored