It's been more than 50 years since Mary Poppins breezed into movie theaters for the first time with her signature red umbrella. Since 1964 the world has changed tremendously, but our favorite magical nanny still captivates. For one weekend only, come support the Olympia School District Education Foundation's presentation of Mary Poppins at the Olympia High School Performing Arts Center February 1-3.
Like Mary Poppins, the OSDEF has a mission to help kids succeed, grow, learn and thrive. They're putting on the show as a benefit, with performances at 7:00 p.m. on Friday, 2:00 and 7:00 p.m. on Saturday, and 2:00 p.m. on Sunday.
The actors are more than just local dramatic and musical talent. They're the OSD Players, a troupe that performed together for the first time more than 25 years ago. "The OSD Players, a group of OSD teachers and staff, assembled for the first time in 1993," explains Kelsey Christensen-Abel, OSDEF Board secretary and chair of the Play Committee, "putting on a musical for the community's enjoyment as well as their own. In 2005, the OSD Players and OSDEF banded together. OSDEF agreed to take on many of the logistics (selling tickets and refreshments, marketing, recruiting volunteers) and OSD Players agreed to continue doing what they do best: putting on a fantastic family-friendly musical production. Since 2005, OSDEF has benefited from the proceeds of the play. The play is the main source of funding for our grants program, which, among other things, allows for innovation in the classroom."
This year the OSDEF has committed to providing nearly $55,000 in education grants. The Innovative Teaching and Learning Grant "is designed to encourage teachers to try innovative 'outside the box' teaching ideas" while the Building Character in the Classroom Grant "aids educators in developing and supplying students with programs that address civics, philanthropy, bullying, kindness or being good stewards of the earth." These are just two of the many ways OSDEF funds are passed down to students.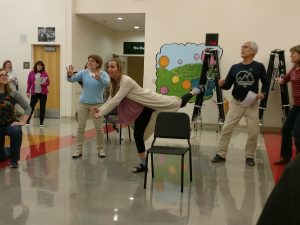 2019's Mary Poppins is co-directed by Kathy Dorgan. "I am a retired teacher—I ended my 21 years as drama director for Olympia High School in June 2018," she says. "I have been collaborating with Colleen Powers on this project for many years."
Dorgan is excited both to maintain the performance tradition as well as put on the best show possible. "Mary Poppins is particularly exciting in that we are bringing in Flying by Foy, the legendary company which 'flies' actors so Mary Poppins really will float in and out," she describes. "It's also a wonderful family story with all the beloved songs from the Disney film!"
Tickets are available online at $12 for general admission or $15 for reserved seating. If a show doesn't sell out, any remaining tickets will be sold at the Performing Arts Center approximately one hour before curtain, says Christensen-Abel.
This year's presenting sponsors are Twin Star Credit Union, Fiddlehead Marina and WSECU.
Can't make the show but still want to help? The OSDEF has many ways to participate and donate. Consider allotting your Fred Meyer rewards bonus, AmazonSmile percentage, or Combined Fund Drive monies to their grant funds and student programming.
And don't forget to bookmark the OSDEF's OSD Players performance page for updates on future shows or details on this year's sponsoring businesses. With a repertoire including Hello, Dolly!, The Music Man, Cinderella, Annie, Peter Pan, and The Wizard of Oz, it's sure to get your toes tapping.
When the original Mary Poppins movie came out, it was considered a visual marvel. Nominated for 13 Academy Awards it won 5, and its success kicked off the iconic Disney animatronics department. The 2018 sequel Mary Poppins Returns has currently earned more than $250 million in box office receipts worldwide.
Whether you can say Supercalifragilisticexpialidocious forward and backwards, know all the words to "A Spoonful of Sugar," or hum "Let's Go Fly a Kite" on windy days, Mary Poppins is a true delight, whatever form it takes. Set aside some time in your weekend to let the OSD Players chim-chim-cheree their way into your heart. You definitely won't regret it.
Sponsored