Over one-third of Thurston County residents spend more than 30 percent of their income on housing. The City of Lacey is working to combat the increase in housing costs by developing an Affordable Housing Strategy, complete with action steps the city can take to make housing more accessible to people of all incomes.
To be considered "affordable," housing must fall under a certain percentage of a resident's income. Although Thurston County's population is growing and the local economy is faring well, incomes have not increased at the same rate as housing. Some of the most affected by rising housing costs and stagnant wages are families and individuals with lower-income employment. "'Affordable' housing is defined by the federal department of Housing and Urban Development as housing that does not cost more than 30 percent of household income," says Ryan Andrews, planning manager for the City of Lacey. "Anything above 30 percent and the resident is cost burdened in their home. 'Subsidized' housing, however, is when an entity, other than the resident, picks up all or a portion of the housing cost. We need more of both affordable and subsidized housing because currently those in the lowest income scale—retail clerks, warehouse workers, office clerks—can't afford a one-bedroom apartment in Lacey by themselves, even if they work full time."
Lacey is working with numerous non-profits to provide subsidized housing for low-income individuals and families who fall below the Area Median Income. Currently there is a shortage of both affordable housing and subsidized housing in the region. "We partner with other organizations such as the Housing Authority of Thurston County, Habitat for Humanity, and Homes First," says Andrews. "What we are hearing from them is that there is more need than the amount of subsidized housing currently available. If people are not able to get into subsidized housing then they can fall into homelessness."
Housing costs have steadily increased over the past 10 years for a number of reasons, including increasing construction costs for builders, a labor shortage in the construction industry, and rapid population growth. If it costs the developer more to build housing, those costs are passed on to the renter or buyer. The same concept applies to labor shortages. If the developer has to pay more for their workers – they pass along these costs, too. In addition, the appeal of the Thurston County region has caused an increase in the population and thus a greater demand for housing. 62 percent of those moving into Thurston County come from locations with even higher housing costs. The bustling local economy, available amenities, and relative lower cost of living, compared to King County, have made Lacey an appealing new home for those looking to live in the Puget Sound region.
Establishing a Plan
Due to the regional, affordable-housing shortage, the City of Lacey is creating an action plan to make housing costs less of a burden for residents. "Our intent is to encourage more affordable housing for all income levels," says Andrews, "so people can live and work in Lacey regardless of how much money they make."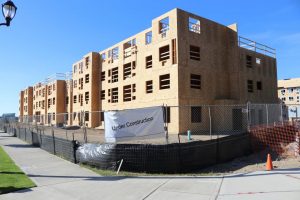 As a first course of action, Lacey is partnering with local organizations to make subsidized housing more accessible for low-income residents. "We are working with our non-profit partners to add more subsidized housing," says Andrews. "Currently, the Housing Authority of Thurston County is building two tri-plexes near the intersection of 14th Avenue and Golf Club Road that will open in the next few months. We are also exploring ways to encourage more subsidized housing by reducing city permit fees and other development fees for non-profits that provide housing."
In addition to subsidized housing, the plan includes a number of goals to expand social services and make it easier to build affordable housing within city limits. "Our Affordable Housing Strategy identifies 13 different actions the city can possibly take to make housing more affordable," explains Andrews. "These actions range from reducing development and permit fees to changing zoning requirements to allow for a broader range of housing in existing neighborhoods. We are also exploring the idea of using vacant city-owned properties to construct units for homeless North Thurston Public Schools' students and families."
Even local citizens can get involved. "If the public is interested, they can get involved with local non-profits that actually build housing like Habitat for Humanity or others to donate time or resources for housing," says Andrews. "They can also get involved with the City by letting our staff or a city council person know if they have ideas that might help solve the housing issue."
While some of the action items in the housing strategy are still in the exploratory phase, there are also concrete steps that are being implemented to create more affordable units. "We are currently working on the program to reduce development and permit fees for non-profits that build affordable housing," says Andrews. "Reducing fees will reduce an initial barrier into the cost of construction and will hopefully result in more units being constructed. We are also working on expanding our accessory dwelling unit (ADU) program. This program will allow residents to build an additional small unit on their property (think mother-in-law unit) they can use for a family member or rent out. We are exploring working with an architect to have a number of pre-approved ADU plans drawn up that would be available at city hall for residents to use. That way they wouldn't have to hire a designer to create a building plan and then have it approved. We are also working with the banking community to reduce any potential financing barriers. The idea is that the fewer barriers builders have – the more affordable the units will be."
Because this is a regional issue, the City is also collaborating with its neighbors, the Cities of Olympia and Tumwater, as well as Thurston County. The issues of homelessness and affordable housing are intertwined and complex, and so are the solutions. None of the cities can do it alone.
To learn more about the Affordable Housing Strategy, visit The City of Lacey website.
Sponsored