Get ready to dance the night away at Hotel RL Olympia this December 31 with their annual New Year's Eve bash. This longstanding event is complete with finely catered meals, champagne toasts and curated music. This year's theme is Puttin' on the Glitz and it is a perfect opportunity for couples, family, friends, or those looking to make new friends to ring in the new year in style.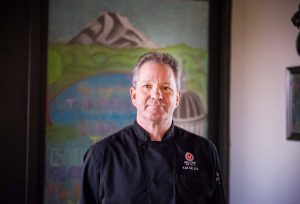 The evening will begin with a New Year's Eve dinner and cocktail hour in either Hotel RL's restaurant or a buffet style meal in the ballroom, depending on package selection. Following dinner is the New Year's Eve party, where there will be a champagne toast at midnight for all to celebrate the passage into 2019. The event will later transition into the afterparty in the hotel's lounge, where guests can continue the fun with drinks and snacks available at the bar. Each party package includes an overnight stay for two at Hotel RL and a champagne toast and breakfast the next morning.
The bash is a chance for guests to have a merry New Year's Eve experience, while not having to worry about being on the road late at night. It serves as a getaway right in Olympia's back yard. "The food is incredible," says Lisa Lange, catering sales manager. "We are going to have a great time in a safe environment where you don't have to drive anywhere and you won't have to be on the road. It's a great opportunity to meet others in the community. We have folks from all walks of Olympia that join us. From business owners, to politicians, to families who are connected in the community and it is a great place to enjoy celebrating the next year."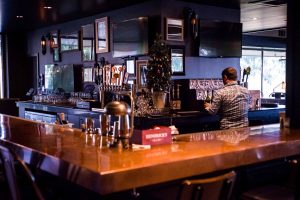 In addition to celebrating the new year, one of the hallmarks of the night is music and dancing. The night's music will hail from the Seattle-based Magnus DJ. The music will be a mix of dance-friendly tunes comprised of old classics and new favorites. The bash will also include an on-site dance instructor who teaches varying genres of group dances. "Last year was amazing," says Lange. "We are bringing back the same DJ and dance instructor. Last year they had everybody up, teaching them the different dances throughout the course of the evening. Really high energy, lots of fun. The dance floor was always packed last year and a lot of people learned line dances that they didn't know."
Hotel RL Olympia's New Year's Eve bash isn't only a great way to celebrate the holiday, but it is also the perfect occasion for the hotel to thank the people of Olympia for making them such a prominent meeting space throughout the years. "This hotel has been in Olympia for more than 40 years and it's always been seen as a gathering place for the community," says Robert Utz, Hotel RL Olympia general manager. "Doing a New Year's Eve party for us was always a way to give back to the community and thank them for continuing to support us. Often it's the only time of year that people who live in the area have the opportunity to stay in the hotel. It's a great way to remind people that we are part of the community and to bring the community together to enjoy a great night."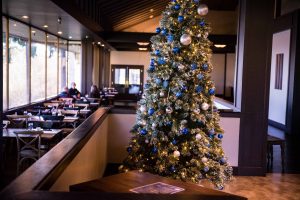 This event also serves as a traditional gathering for family and friends from Olympia and beyond. "I am excited to see folks who have come to this party every single year," says Lange. "We have folks that return year after year and start calling in October to get their tickets for this event. We have a lot of folks who make it a friend and family tradition of coming together."
To book a New Year's Eve package, call 360-943-4000 or visit Hotel RL Olympia's website. If booking online, use group code HOTE2018 for a standard package and group code RLNE 2018 for a VIP package.
Package Options:
NYE Standard Package $209
Buffet Dinner in Ballroom
Overnight Accommodations for Two
Two Passes to NYE Party
Champagne Toast & Breakfast for Two
NYE VIP Package $235
Four Course Dinner in Restaurant
Overnight Accommodations for Two
Two Passes to NYE Party
Champagne Toast & Breakfast for Two
Hotel RL Olympia
2300 Evergreen Park Dr SW, Olympia
360-943-4000
Open 24 hours
Sponsored