Equity is defined as justice according to natural law or right, specifically freedom from bias or favoritism. While a simple concept, it can be difficult to focus on in the bustling, day-to-day school setting. But for the staff, students and teachers in North Thurston Public Schools (NTPS), equity is a vital goal district-wide.
This year the district is embracing a theme of Everyone Belongs. "Our district and compassionate community are dedicated to the success of all children. Together we celebrate diversity, embrace equity, and continue to work hard preparing our students for rewarding careers, fulfilling lives and compassionate global citizenship," says Superintendent Dr. Debra Clemens.
By putting the idea of equity front and center, community members, staff and families can look for little ways to make every student's day an educational gem. "This year's theme emerged from our NTPS Compassionate Community initiative and from our core values," explains Executive Director of Community Relations Courtney Schrieve. "Healthy relationships are built on collaboration, respect for diversity, accountability, and trust. All of our schools are embracing this theme through a variety of projects including Unity Day, book drives, and general themes of kindness and being nice to one another."
With this in mind, the district brought in Kate Frazier to promote and expedite their newly formed equity program. An educator and principal for 20 years in the Tacoma area, she is excited for the new position and district-wide focus. "There has been a real hunger and desire among the staff for a coordinated effort towards equity," says Frazier. "The district saw the need and made the commitment to facilitate the work."
Initially, the district has created a guiding document to illustrate the progression of their equity focus. Stage one concentrates on habits, attitudes, beliefs, expectations, as well as identifying personal "blind spots" which can impact our relationships with families and students.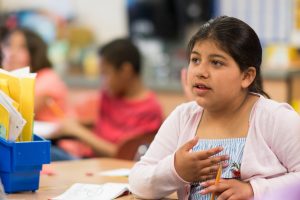 "There are already great pockets of work where teachers and principals are taking initiative in their building," acknowledges Frazier. One example of this is at Meadows Elementary in Lacey. Assistant Principal Terae Harris agrees that Frazier's work "has been a great resource."
"At Meadows, we have had an intentional focus on equity," says Harris. "With our Equity Planning Committee, composed of administrators and teachers, we have led discussions and done activities related to equity and how we can close the opportunity gap and meet the needs of all of our students. I have also created a professional development class entitled, Minority Educator Roundtable in order to help recruit and retain teachers of color. We had our first meeting in October, with three more throughout the year. I felt like this was important because research shows that all students benefit from having at least one teacher of color during their K-12 education."
For staff, the district now hosts several opportunities to learn and share. Their Fall Equity series was open to all employees and provided evenings of professional development "that were really awesome," admits Frazier. They hope to offer another class in the spring.
The Multicultural Action Council, or MAC, meets every other month and consists of high school students, community members, parents, and staff. This "very passionate committee" awards mini-grants to groups focusing on educational equity in North Thurston schools.
An equity toolkit is also available through the equity office where district staff can find articles, books, and videos to help them fully "lean-in," says Frazier.
To learn more about the NTPS equity journey, follow the district's Facebook page, Twitter handle @EquityNTPS or equity office website. There you'll find details on upcoming events, activities, and ways to help. On April 11 at Chinook Middle School from 6:00 p.m. – 7:30 p.m. there will be a district-wide language celebration honoring the 46+ languages spoken by their students.
Our outlook in life is based, in large part, on childhood experiences. Learning compassion, caring, and how to listen can make us curious, friendly, accommodating adults with a passion for treating others fairly.
Read about the five-year equity plan and find contact information to participate, share, seek support, or become an NTPS Thought Partner online or by emailing equity@nthurston.k12.wa.us. Frazier and her team would love to discuss ways we can eliminate barriers for local students and their families.
Sponsored