When winter's gloom makes way for pops of red and green, you know the holidays are just around the corner. This time of year, we enjoy the crisp scent of Christmas trees, colorful decorations and lights, and the delightful sounds of the Salvation Army bell-ringers.
On Friday, December 14, come by the Commencement Bank branch at 600 Franklin Street and enjoy a little extra cheer while doing your daily good deed. From 4:00 p.m. to 5:00 p.m. they'll host bell-ringers playing along with the sounds of the season thanks to the Capital High School band. Hot cider and cookies will keep you warm, inside and out.
"We hope to get more of the community involved," says Dan Howard, VP & Commercial Loan officer of Commencement Bank. Their organization first started participating in this event in 2014, but it has much deeper roots. Capital High School band teacher and music department head Dan Lundberg has partnered with former Secretary of State Ralph Munro for more than 35 years. Their service on behalf of the Salvation Army is an annual delight.
"The local school districts have always tried to have musical additions to many events when asked," says Lundberg. "The opportunity for the students to perform out in the community is another experience for the kids and the community to see and hear school groups at all age levels. Many folks from our Thurston County community do not have the opportunity to attend school concerts. Members of the Capital High School band have performed on the street corner for the Salvation Army since the mid-1980s for the holiday bell ringers. It is not always a big group, usually 15 to 20 kids, giving back to the community. It's part of the band's tradition."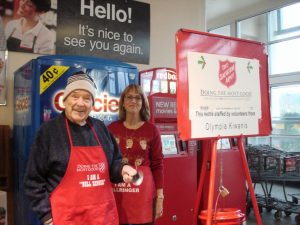 It's no wonder that Commencement Bank was eager to host an event like this. Their mission includes a passion to be "community partners. We encourage our employees to positively impact the communities where they live and work by building relationships, inspiring philanthropy, and promoting goodwill."
This echoes the goal of the Olympia Salvation Army. Since 1889, they've striven to combat hunger, poverty, homelessness, and more. They're proud to serve more than 120,000 meals each year, provide homework assistance to students, and help families in need pay bills or find work.
It may seem like a trivial thing, but donating to one of their red kettles—staffed by bell-ringing volunteers—is tremendously important and has been for more than 125 years. The first kettle started in 1891 to fund Christmas dinner for San Francisco's hungry. The Salvation Army history shows that by 1897, "the combined effort nationwide resulted in 150,000 Christmas dinners for the needy…Today in the U.S., the Salvation Army assists more than four-and-a-half million people during the Thanksgiving and Christmas time periods." You'll even find the ubiquitous kettles in Korea, Japan, Chile, Europe, and beyond.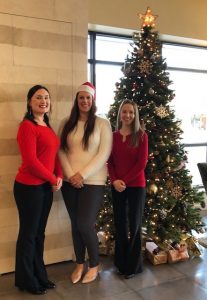 If you can't attend the December 14 event, look for kettles across the area or make a tax deductible donation through their giving portal. You can also contact the Olympia Salvation Army directly to learn more about services offered, volunteer opportunities, and ongoing programs. Call 360-705-2850 with questions.
The Network for Good's Digital Giving Index reports that nearly one-third of all charitable giving takes place in December. Help benefit your community in whatever way you can so everyone can have a happy holiday season. And thanks to Commencement Bank, you'll be repaid in carols, cookies, and holiday cheer.
Sponsored