Energize and brighten your holiday meals with a little help from the Olympia Farmers Market. You will please your senses while adding a dose of welcome health benefits. The vendors are cheery and offer more variety than you might expect for the late fall season, from farm fresh ingredients to meats, cheeses, prepared soups and amazing artisan crafts.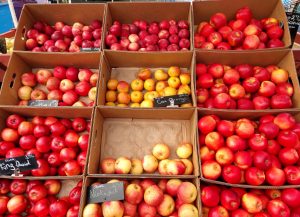 Make a pie with the sweet pumpkins from Pigman's Organic Produce Patch. Thoroughly dry the seeds and then toast them for a tasty snack. Dean Pigman and his wife Jan took up farming in the Nisqually Valley years ago after they retired. It's been a more than full-time enterprise!
Apples are remarkable in variety for their taste and their versatility. A Waldorf salad brings crunchy sweetness to a typical Thanksgiving dinner that has many soft foods. Chop apples and mix with diced celery, toasted walnuts, raisins and slice grapes. Stir with a mayonnaise style dressing.
Like Christmas lights, cranberries are fun to admire for their beauty. Add them to salads, turkey dressing or a morning smoothie. Put a scoop into your applesauce as it cooks. Making it in the crockpot is easiest. Don't bother peeling them. Simply rough cut and cook on low. No added water or sugar is necessary.
Called the staff of life, bread is welcomed at any meal. The San Francisco Street Bakery keeps busy baking all sorts of loaves, rolls and sweets. Enjoy the freshness without having to do the work yourself.
If you are looking for ways in get your daily greens, add kale or chard to a smoothie. For people who are still getting accustomed to eating greens, they almost disappear into soups and stews still adding many nutrients.
Learn to appreciate cabbage. Warm German-style red cabbage is made by adding a little lemon juice, butter and brown sugar to the finely chopped red cabbage and simmering. Green cabbage can be turned into slaw, added to salads and put into stews and soups. Use a food processor to save time and making a big mess.
Mushrooms are notable for their umami flavor, a savory and satisfying ingredient for spaghetti, salads, soup, eggs and about anything else. It's an excellent source of vitamins, minerals and even protein.
Johnson Berry Farm's Rhubarb Raisin Spice Jam will perk up your morning toast, your late-night ice cream and anything you eat in-between. It's simply fun – and would make a thoughtful gift as well.
Onion and potatoes are winter staples. Store them, but not together. Onions are better kept out of the refrigerator and out of plastic bags. Keep in a cool, dry, dark area. Use mesh bags or paper bags with air holes. Potatoes also like it cool, dark and dry.
Bring vibrancy with taste, colors and goodness to your holiday table with help from the farmers and vendors at the Olympia Farmers Market. Maybe you are using your cranberries in a sauce or maybe they are in a bowl surrounding candles – either way it's lovely and local. For a list of vendors, click here. It can be a hectic time of year, so remember to take a few deep breaths and take few moments to appreciate living in Thurston County. Have fun visiting at the market and take in the bounty.
Sponsored