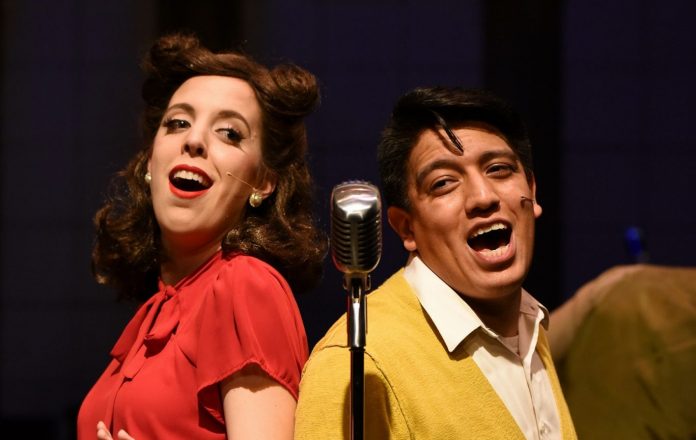 Submitted by Harlequin Productions
What's billed as a holiday show at the historic State Theater this season, actually feels much more like an all-inclusive holiday party. Audiences for Harlequin Productions' The 1940s Radio Hour are in for a real treat. As soon as you enter the lobby, the smells of hot spiced cider and the hustle and bustle of holiday performers will put you right in the spirit. Rather than walking into the theater to a dark empty stage, you'll walk into the working studio of live radio show.
More than most live performances these days, the audience plays a crucial role in the production of "The Mutual Manhattan Variety Cavalcade," which the characters are putting on. Unlike our current era of digital production and laugh tracks, this show is a rare opportunity to travel back in time, where the live studio audience is critical to how the show sounds. One opening night attendee even said she "began to feel a real responsibility to applaud and cheer for the sake of the radio audience listening at home."
With the tumult of a difficult year in the rear-view mirror, Harlequin is producing this show as a tribute to the artistic history of the organization. The 1940s Radio Hour was the first holiday show ever produced on the Harlequin stage, back in 1993. A holiday throwback to the winter of 1942, it's a timeless story of a rag-tag group of artists trying to cheer up a country at war. It's such a timeless story, in fact, that it inspired the original Stardust series, which ended up running on the Harlequin stage for 22 years.
Maggie Doyle, who is Assistant Director for The 1940s Radio Hour, played Joy Higgsby in the Stardust series for 6 seasons, where she met and fell in love with her husband, Christian Doyle, who played her onstage love interest.
"Stardust is a Christmas tradition cherished by the Olympian community and one I hold closely to my heart," says Doyle. "I can think of no better way to honor the legacy of Stardust than to go back to the story that inspired it all. I am excited to bring the 'Stardust magic' we have all fallen in love with to The 1940s Radio Hour."
Harlequin's recently appointed Artistic Director, Aaron Lamb, is both director and musical director for this show. Under his guidance, the talented musicians and vocalists perform a truly beautiful set of 1940s numbers, ranging from the high energy "Boogie-Woogie Bugle Boy" to sweet ballads like "Blue Moon" and "Have Yourself a Merry Little Christmas."
Opening night audience members pointed out the solo performances of James Dean (The Stardust Christmas Enchantment) and Christie Murphy-Oldright (The Stardust Christmas Fandango; First Date) as stand-out vocal moments.
Other stand-out performances included the rich slapstick comedy of Miguel Pineda (The Stardust Christmas Fandango; Rock N' Roll Twelfth Night) and the hilarious diction farce performed by Xander Layden (The Art of Racing in the Rain; 2 Stardust productions).
There really is no weak performance, however, with the remaining cast including Bruce Haasl (4 Stardust productions including The Stardust Christmas Fandango), Edsonya Charles (The Stardust Christmas Commotion), Nathan Rice (Laughter on the 23rd Floor), Carolyn Willems Van Dijk (First Date), Gerald Browning (The Love List), and Andy Garness (5 Stardust productions including The Stardust Christmas Fandango).
A good, old-fashioned family comedy, complete with beautiful '40s hairstyles and heels, this show is truly an escape from the worries of your day. With a fun set designed by Jeannie Beirne and timely hair and makeup by Darren Mills, we are easily transported back to the 1940s. Choreography by Amy Shepherd highlights the delightful hijinks of these relatable characters as they sing and dance their way into our hearts.
The cast and crew of WOV radio station in New York City will quickly have you laughing and smiling your evening away. So come raise a glass to the holiday season and days gone by. Get your tickets or find out more at harlequinproductions.org or by calling the box office at 360-786-0151.
And be sure to check out these special performances for an extra treat along with your ticket:
Pay-What-You-Can: Wednesday, December 5, 2018 at 8:00 p.m.
Ladies' Night: Friday, December 7, 2018 at 8:00 p.m.
Post-show Talkback: Sunday, December 9, 2018 at 2:00 p.m.
Pride Night: Friday, December 14, 2018 at 8:00 p.m.
New Year's Eve Party: Monday, December 31, 2018 at 7:00 p.m.
See you at the theater!