For as long as many of us can recall, a trip to the spa has been an integral part of our beauty regimen. Today, a new trend in the spa industry is offering an alternative approach to how we view skincare. Omni Esthetics has taken this new, revolutionized phase of skincare into consideration as they've continued to build and expand their business in Olympia.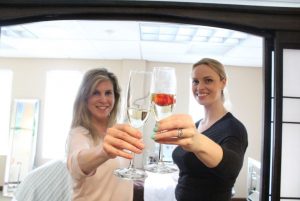 In operation for a year and a half, Omni Esthetics was founded on the principal of harnessing the contributions that nature provides us to fight against varying skin conditions. Longtime friends and now business partners, Karen Birbari and Dr. Lauren Peizer, ND, initially discussed the idea of opening a wellness spa over three years ago. As time progressed, they realized that they had a concept with the potential to be extremely successful in the Thurston County area. "Lauren and I have always been passionate about creating a business that can help individuals feel better about their skin in a healthy, science-based way," explains Karen.
So, what exactly is a wellness spa? "This trend of spa is somewhat of a new animal," explains Karen. "Omni Centers for Health and Esthetics works with honor and integrity to deliver science-based treatments and skincare in a safe, results-oriented atmosphere." This spa offers revolutionized services, advanced clinical treatments and superior home-care formulas that can help individuals receive results that they may have never thought were possible.
Services offered at the clinic vary based on the client's specific needs and desires for the future outcome of their skin. After an initial consultation, both Karen and Lauren take into consideration the necessary next steps needed in order to provide each and every patient with their optimum potential for health and beauty. Various services available at Omni Esthetics include: facials, collagen induction therapy also known as micro-needling, LED light therapy, platelet rich plasma, lash and brow treatments, clinical peels and stem cell plasma. Lauren and Karen use their specialized backgrounds to perform these treatments as well as recommending future plans for their patients' skincare regimen.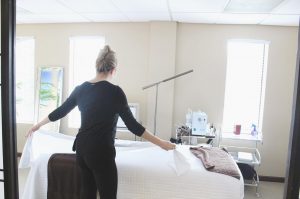 Stem Cell Plasma
The duo recently implemented the use of stem cell plasma procedures into their business. These procedures are gaining popularity and play a role in cell division, the growth of new cells, the production of collagen and elastin and proteins. When applied to skin, these two components can help firm wrinkles, slow the development of new lines and produce other desirable outcomes.
Before Karen and Lauren joined forces to create Omni Esthetics, they each were on different journeys in life. Karen has an extensive background in fitness, health and yoga. After years working in these fields, Karen decided to make a professional life transition into the field of esthetics. Her knowledge and passion for skin rejuvenation came from training at the renowned Euro Institute of Skin Care and the Washington Laser Institute. Utilizing the best of what the natural world and science has to offer, Karen has committed her life's work to waking up the skin's natural process to heal and rejuvenate.
Lauren Peizer, ND completed her Bachelor of Science in Cellular, Molecular and Developmental Biology at the University of Washington. While in college, Lauren was introduced to naturopathic medicine by Dr. Andrew Iverson, who inspired her to follow in his footsteps. Lauren then went on to earn her Naturopathic Doctorate, from the National University of Natural Medicine.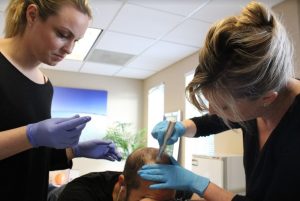 Using the skills that Lauren's acquired through years of schooling and on the job, she works to treat the whole body, not just the symptoms that patients are experiencing. Various treatment plans may include anything from diet and lifestyle changes, detoxification, hormone therapies and natural medicines. Patients may seek her guidance for health issues such as hormone imbalances, fibromyalgia, depression, digestive disorders and many other conditions. In addition, Lauren has particular interest in stem cells/PRP, aesthetics and weight loss. After working alongside Dr. Iverson at his Tacoma family practice, Lauren has gone on to work primarily in balancing hormones, anti-aging and stem cells.
Karen and Lauren are both acutely aware that many individuals have never sought out a skin care specialist and may be hesitant as to what they can expect. "Many people don't treat the skin that they have and only feel that they need to seek out a specialist if they have a condition that they can't get rid of," Karen explains. "while those conditions can be improved upon and we can certainly help fight the battle against them, the skin that we're born with always has the potential to look and feel better, whether you are fighting a specific condition or not."
Karen also notes how there are many factors associated with aging and healthcare that we don't have control over, but that's where Omni Esthetics comes in to help.
As the years progress, Lauren and Karen envision Omni Esthetics growing and expanding. "We hope that our clients entrust the services that we offer to help them feel better while leaving completely satisfied with their results," adds Lauren.
To learn more about Omni Esthetics, visit their website, Facebook, Twitter and Instagram accounts.
Sponsored