Anyone who has ever considered a career as a commercial fisherman knows how unpredictable life can be. Luckily for Town and Country Roofing, their sales manager, Doug Beedle, got the fishing bug out of his system early. He spent the first several years out of high school as a commercial fisherman. Then, the last year, the boat he was scheduled to crew had an engine breakdown and after weeks of preparation, wasn't able to leave the dock. "There I was in Kodiak and the rest the fleet had left," recalls Doug, "so I had no choice but to come home and make truck payments." It is hard times like those can really shape a person.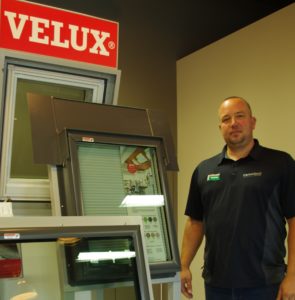 "I didn't care what I did," says Doug, "and I wound up working for a couple friends. They told me about a roofing distribution company needing workers so I went in and asked for a job and I never left the industry."
Starting as a laborer, Doug worked his way up from laborer to truck driver to sales. "Ron Shincke and I knew each other from the industry here," says Doug, "and I decided to come and work for him. That was 10 years ago now. 17 years total in the industry. And it's been good. I wouldn't go back to fishing, that's for sure. That was a brutal time."
We are sitting in the Town and Country Roofing showroom in Tumwater. The glass door opens and Town and Country Roofing owner, Ron walks through it loaded with supplies. As the door closes the light rain outside turns into a torrential downpour.
This is not a great day for roofing.
New Product Improvements and Washington Rain
As we are quietly admiring the downpour, Doug mentions what it's like to work in our rainy climate. "We started a roofing project yesterday," he shares. "We pulled off the shingles, we put the underlayment in, put our pipe boots in place and we will come back and roof it on a dry day." Doug looks directly at me, "and everything will be perfect. We need a couple dry days to do some prep and we dance around the weather – that is how huge the improvements are in the products over the last five years. It really limits the liability and risk from working around wet weather."
In wet Western Washington, that is a good thing.  When your business is based on referrals, you have to deliver regardless of the weather. "Everything that comes in to us is because we worked for someone and they referred us," explains Doug, "but the only problem is we have to live up to those expectations. We strive for 100 percent satisfaction." Doug prides himself on the relationships he builds with homeowners. He is often the one who answers the phone, then will come out to inspect the house including attic space, sheathing and insulation, of course, the roof.
"I don't want any surprises after we get started," says Doug "and on the very rare occasion that a change does come up, I work with the homeowners to make it right. Our business is not based on change orders. Instead, I'll say to myself 'I should have seen that,' I am my worst critic so we strive to be great and that starts at 4:30 in the morning every morning and we go home when the sun is down."
Shingle and Workmanship Warranties
Doug does get a good night's sleep, though. Town and Country Roofing are the only CertainTeed Certified Roofing Contractor in Thurston County. "Every one of our roofs comes with a factory warranty," says Doug, "so it is lifetime shingle warranty with a 25 year workmanship warranty coming from the manufacturer."
During unpredictable economic times, it just makes good sense to work with established teams. "It gives the customer peace of mind," Doug emphasizes, "so five years down the road if we have issues and we go of the business, the shingle manufacturer still stands behind it." There is little chance of that though. Last summer Doug had to turn jobs away they were so busy.
Brighten Winter – Let in the Light
Town and Country Roofing does get their share of repair jobs from other closed roofing companies, however. And, it was while going out to inspect those jobs that Doug saw the need to include skylights in their services. "I could never get the right hardware parts for skylights," he says incredulously, "they just couldn't be found."
Consequently, Town and Country Roofing became a supplier and installer for Velux Skylights, another manufacturer that backs Town and Country Roofing with a warranty. "They are very strict," says Doug of Velux's certification requirements. "The strictest of anyone but luckily we are so customer-oriented it works out great. We typically focus on skylights and sun-tunnel installs this time of year. Having natural light here in the Northwest makes a huge improvement."
For homeowners with dark hallways, kitchens, or bathrooms, Doug recommends using Velux Sun Tunnels. "They are a great way to get light in to a space where a skylight can't," says Doug, "and we can facilitate the whole job."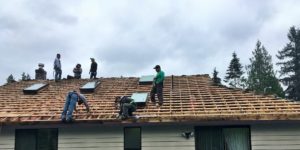 For painting or drywall, Town and Country Roofing subcontract with Lossing Construction with whom they have absolute faith. "He's the best," pipes in Amber, from the front desk, "he did my house and it is gorgeous." On average, it takes about two to four weeks from meeting with the team and choosing your product to installation.
The rain has let up so I take my cue and gather up my notes. Doug walks me to the door, as he extends his hand I realize how large he is. Yes, he looks like he could definitely hold his own on an Alaskan dock. A great work ethic and nice guy. Too bad Alaska.
Town and Country Roofing
Olympia Skylights
6301 Capitol Blvd SW, Tumwater
360.704.7663
Reception hours: Monday – Friday, 8:00 a.m. – 5:00 p.m.
Showroom hours: Monday, Wednesday – Friday, 12:00 p.m. – 5:00 p.m.
Sponsored