Submitted by Studio West Dance Theatre
Studio West Dance Theatre celebrates their 10th anniversary production of The Nutcracker with an eight-show run on December 9 – 16, 2018 at the beautiful Kenneth J. Minnaert Center for the Arts. This favorite holiday tradition promises to be even more spectacular this year with additional festivities planned to commemorate this special milestone.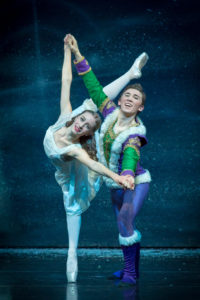 "We have artistic staff and performers who have been part of The Nutcracker since our inaugural show in 2009. We are at once excited, sentimental, and so proud to see how far our company has come in such a short time." shares Stephanie Wood-Ennett, co-director of Studio West Dance Theatre (SWDT). "I've performed, choreographed, or produced The Nutcracker production for over 25 years with local and professional ballet companies, and you would think the Nutcracker would be old news to me, but there's something that I can't explain about experiencing the Nutcracker every year, and through the eyes of all of our bright and motivated dancers. When I'm in rehearsals with the dancers and when I see it all come together on stage, this is when I love the Nutcracker the most. It's their energy, their eagerness, and excitement that reminds me of why we began our productions 10 years ago."
Two talented dancers who are stepping into the principal roles of Sugar Plum and Cavalier for the first time are Hannah Smith and Cole McMason. Stephanie shares "In ballet, dancers constantly strive to improve their performance quality every time they step into the studio or on the stage, and I'm continually inspired by the growth in technique and artistry of our dancers. The choreography of the Sugar Plum and Cavalier roles are the same as that performed by professional dance companies from across the world, and our dancers step into these advanced roles beautifully." Hannah shares the Sugar Plum role with Abigail Bunn, who is reprising this role for the second year. Cole will be performing as Cavalier for the Sunday December 9th and Monday December 10th shows. Also returning to the stage will be Pacific Northwest Ballet soloist Joshua Grant, who will don the role of Cavalier for the remaining performances.
Studio West will debut a one-night-only performance of The Nutty-Cracker on Thursday December 13th, an off-the-wall take on the classic Nutcracker, with some super nutty twists and turns. Mary Cecelia Piper, co-director of SWDT, shares "We have such a wonderful community of supporters. We are dedicating the Nutty-Cracker performance to our dancers, families, and patrons who've allowed us to be a part of their lives all these years. The Nutty-Cracker stays true to the story and choreography that everyone knows and loves, but we get to infuse it with our own sense of humor. You can't take life too seriously. We can't give away much but I will share that our long time patrons will catch character cameos from each of our previous productions."
Whether audience members attend the Nutty-Cracker or one of the seven traditional Nutcrackers this year, they will feel the magic right as they step into the theater lobby, with new elaborate decorations providing a magical backdrop for fun photo ops. Also set in the theater lobby is Clara's Nutcracker Party, for patrons 3 years and up, before each matinee. Partygoers enjoy their own party with Clara before the curtain opens on the main stage, with special holiday keepsakes, refreshments, a reading of the Nutcracker story, and mingling with characters from the ballet.
Tickets for the Nutcracker at the Kenneth J. Minnaert  range in price from $17-$26, with special half price youth tickets of $8.50 for the Monday 12/10 evening performance. Tickets for Clara's Winter Wonderland party are $12. A $3 Washington Center service fee is added to each ticket purchase. To purchase tickets, contact the box office at 360.753.8586 or online at The Washington Center .