If you're looking for a handcrafted wooden gift at this year's Panorama Holiday Market, come early. Such items are in demand at the annual event, where shoppers can find a wide variety of unique products created exclusively by Panorama residents. "I've been doing a lot with Bluetooth speaker boxes recently," says Dave Taylor, manager of Panorama's woodshop. "Last year I had six and they were gone in about 15 minutes."
Shoppers can visit the market on Friday, November 16 and Saturday, November 17 between 9:00 a.m. and 3:00 p.m. at the Panorama Auditorium. "It's a chance to get in the holiday spirit early," says Sharon McGinley, event chairperson. "Our residents invite all their family and friends and it's open to the public. Everyone is welcome."
The event typically includes more than 50 vendors, with booths running the gamut from knitted items, ceramics and paintings to cards, woodwork, clothing, quilts, jewelry, stocking stuffers, Christmas decorations and much more. "Sharon always has a lot of knitted and sewn things," says Taylor. "We have people who do paintings and drawings. One woman uses a felting needle to make little animals every year."
Panorama runs several operations year-round, including fully-stocked metal and wood shops. Taylor has been managing the latter for seven years and says it serves residents well. "It's probably one of the best in our area," he says. "We have laser cutters and a CNC machine."
Many residents use the shop year-round to create products that are sold through Panorama's gift shop. "Most of the people who use it have their own projects," says Taylor. "We have a lady and a fellow that both make doll houses, one person who does nothing but refinishing for other residents, and a guy who makes only wooden clocks." Others create lamps and lighting fixtures out of wood, and Taylor occasionally makes key chains and little travel tags for suitcases.
Most of the proceeds (80 percent) from the market go directly to the vendors themselves, while 20 percent goes to Panorama's Resident Council.  Taylor makes jewelry boxes in the woodshop that are popular all year, says McGinley. "They're beautiful boxes and he sells them all over Washington."
While holiday shoppers reap the rewards of these creative endeavors, the residents also benefit. "We have clubs for nearly everything," McGinley explains. "If you've been working your whole life and there's some skill or craft you've always wanted to learn, you can do that here. It gets people out of the house and it's motivational for everyone."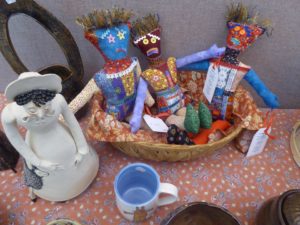 One of the more unusual items? A "dammit doll" that alleviates stress and anger. "We have a woman that makes these rag dolls," Taylor says, laughing. "If you get mad, you can just throw it at the wall."
Residents have also written books, both how-to's and fictional offerings. Many bring books they no longer need, Taylor notes. "Typically, they're about things like cooking and how to make crafts. Those sell pretty fast."
Cookies and coffee will be served both days and visitors can expect a communal vibe. "It's really open," says Taylor. "The important thing is that it's a great gathering for the community. A lot of people come the first day and see an item they want one day and then come back the next day for something else. There's really something for everybody."
For more information, visit the Panorama website or call 1-800-999-9807.
Sponsored