You've seen the news stories. A car, for whatever reason, has crashed through a commercial storefront and broken glass is everywhere. Such incidents may seem rare, but they're more common than you'd think according to Ryan Hagen.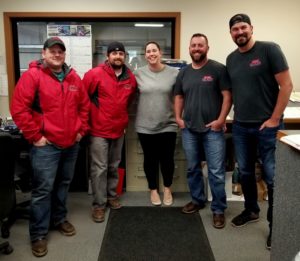 He should know. Hagen is a project manager and estimator for Kell-Chuck Glass Windows and Doors' commercial division, so he's the one that gets notified when clients have emergencies. "We'll get a call saying, 'Somebody just drove into my building. Can you please come help us immediately?'" says Hagen.
Most of the commercial division's work is less dramatic. Kell-Chuck manufactures glass and aluminum products in-house and provides installation on small to mid-sized projects up and down the I-5 corridor. "We typically do anything from a $2,000 door swap to a $1.5 million school or a building with that kind of volume," says Hagen.
Although they are a glass company, most of their work is with aluminum. "The glass is the last thing we do but the thing everyone looks at," he explains. "We do our own aluminum fabrication here and install it in the field and as the final step we put glass in it." Aluminum is better suited for larger window openings than vinyl, which is typically used in residential buildings.
The company has a residential division in Olympia as well as the Lacey-based commercial branch. The name is derived from founders Mike Kelly and Chuck Bishop, who started Kell-Chuck Glass in 1980. Kelly and his wife Kim have been running the business since Bishop retired in 1994. Hagen, in addition to his roles bidding on and managing projects, is the Kellys' son-in-law.
Over the last four decades the business has expanded considerably. Today the commercial division alone employs between 20 and 30 workers on its weekly payroll, including multiple foremen overseeing projects in the field, journeymen apprentices and in-house workers who do fabrication, deliveries, receiving, and more. "The number of employees we have at a given time fluctuates with the workload and the size of jobs we are currently on, but we have as many as 25 glaziers in the field" says Hagen.
On the fabrication side, they use specially designed software that includes different systems and parts options. "We go in, pick the system, and enter the configuration of the frame and the door," says Hagen, "from there cut sheets and fab sheets are created and we have what we need for production"
In cases that require more complex design, he or one of his colleagues use a Computer Aided Design and Manufacturing (CAD) machine. "That's mainly for specialty items," Hagen explains. "The other program creates great squares and rectangles but when it comes to arches and angles, we have to do that on our own."
While the fabrication piece is critical, keeping a steady flow of projects coming is equally important. Rather than working directly with clients, Kell-Chuck functions as a subcontractor to general contractors and bidding for jobs is an important part of Hagen's role. "We bid to them and they bid the client, whether it's a school district, a state entity of some kind or a private owner," says Hagen. "They compile their bids from glaziers, electrical, mechanical, landscaping, and whatever it takes to create a building from the driveway to the roof and send that to the client. If they win, we win."
Once a project is confirmed, they procure materials, deal with paperwork and begin working on site to begin the installation process. General contractors create timelines and schedules before projects begin and in the ideal world, everything flows smoothly and every subcontractor hits their deadline but as anyone who has ever built a home or commercial building can tell you, it doesn't always work that way. "Scheduling can be a challenge," says Hagen. "Typically, projects get delayed – especially in Washington because of the weather. If it rains, it's going to stop things from happening."
For his own crew, rain isn't much of a deterrent. "We work year-round," he says. "All of us are born and bred here. You just find a way to get the job done, rain or shine. If it's just absolutely dumping down, we have to halt the fieldwork but typically we can devise ways to make it work. Otherwise, in this state you'd end up with a lot of time off."
Like most of the construction industry, Kell-Chuck took a hit during the recession in 2008, but today business is booming. "We're so busy right now that on the management side, our entire office crew does a little bit of everything," says Hagen. "I'm still submitting bids but I'm also managing 12 to 15 projects on my own. Two of our other commercial estimators, Ryan Shea and Shaun Furth, are managing about the same number of jobs."
That work rate is in alignment with where Kell-Chuck wants to be, Hagen says. "We'd like to have this business keep going at the pace we're at without getting too much bigger too quickly. Our goal has always been to provide great customer service at competitive prices. We hope to keep doing that for many years to come."
Visit the Kell-Chuck Glass website or call 360-491-5244.
Sponsored