We live in an age of online shopping carts, step-by-step tutorials, and answers to anything you may (or may not) want to know. You don't even have to be on a computer to instantly access a worldwide web of information. The phrase "ask Google" wasn't coined for nothing. While this is great for helping your kid with a science project or ordering gifts, if you are like me, there are just certain things I don't want to leave up to Google.
When it comes to motorcycle maintenance and repair, you want someone you can trust; someone you can look in the eyes and know you are going to get great service at a great price. Some people think this type of "old-school service" just doesn't exist anymore. But Larry Allen, owner and operator of Olympia Motorcycle Tire, is ready to show you what it's all about.
The difference is obvious when you arrive at Olympia Motorcycle Tire, tucked quietly off Harrison Ave on the westside of Olympia. Maybe it's being greeted eagerly by Bo, the friendly shop dog. Or maybe it's the warm hand shake and smile from the owner when you walk through the door. Either way, it's like visiting an old friend. And that's just the way Larry likes it.
Just over a year ago, Larry opened the doors of his quaint, but well-equipped shop located at 2407 Harrison Ave NW, Suite 201. After 40-plus years in the construction business, he decided he needed a change. "If I have to work, I might as well do something I love," he says. His passion for riding and all things motorcycle started at an early age. He was turning wrenches and flinging mud from dirt bikes in the '60s before taking to cruising the streets in 1975. So, to say he is experienced would be an understatement.
And experience says, don't wait when it comes to maintenance and repairs. Not only is regular maintenance on your bike a necessity for safety, but in the long run it's usually better for your wallet. "As a repair guy, people don't usually call me when they are having a good day," Larry reflects. "I'd rather be keeping riders on the road doing what they love."
So, with the days getting colder and wetter, it's the perfect time to get in for things like tires, brakes, fluid changes or drive belt replacements so your bike is ready when you are. Winter riding is sporadic, so why not be ready at a moment's notice when the weather breaks? I mean, who wants to be on someone's waiting list just before that first sunny day? And if you won't be riding over the winter, now is the time to think about winterizing your bike. Larry is more than happy to help you with both and save you a few bucks along the way.
As a Dunlop Pro-Tire Dealer, Larry is definitely your guy for tires. On top of selling tires at 25 percent under retail, Larry can offer rebates and discounts (e.g., veterans, active duty, and first responders) that will likely get you out the door, with installation, for less than buying elsewhere, including online. And if that isn't reason enough, he will be saving you time by being the point person with the manufacturer and part reps. In addition to Dunlop tires, Larry also carries Metzeler, Continental, Bridgestone, Avon, Kenda, IRC, including Adventure and Dirt bike tires.
But despite its name sake, Olympia Motorcycle Tire is more than just tires. Larry offers basic maintenance and selective repairs on most makes and models. And he loves to combine services to help save you money. Let Larry service your bike with EBC brakes pads, Bel-Ray Fluids, and K&N/S&S Filters. Or if you need other parts, he's happy to run point for you on that too. It generally takes 2 business days to order parts from the California warehouse. Beyond that he says, "come on in and let's talk about it." Larry is your resource, your friend in the motorcycle business.
At Olympia Motorcycle Tire, it's quite simple. The difference is the service. You don't just get what you paid for, you get that and a little bit more. Larry knows you have a choice when it comes to service providers, so he stands by his work and will always make it right. This is something you just aren't going to get from the internet. And if he can't meet your request, he is always willing to offer sound recommendations to another shop to ensure you get what you need.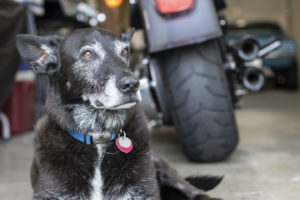 So, what are you waiting for? Hopefully not a flat tire! Get on over to Olympia Motorcycle Tire, located at 2407 Harrison Ave NW, Suite 201, to find out what old-school service is all about. Larry (and Bo) can be found tinkering around the shop Monday – Friday from 10:00 a.m. – 5:00 p.m. Or you can give him a call at 360-338-0196 or email him at larry@olymctire.com to see what he can do for you.
Sponsored