The YMCA is a very special place. Rob Knowles and Brenda Banning know this better than anyone. They work tirelessly day in and day out leading their teams and volunteers at South Sound YMCA to offer dynamic, creative, inspiring programing to each and every child in our community. This month, South Sound YMCA takes a look back at summer as we prepare for the exciting youth programs coming this winter.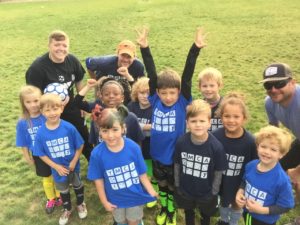 "The work we do at the YMCA is impactful and always mission driven," explained Brenda, Director of Childcare at South Sound YMCA. "Everything we do is focused on strengthening our community."
This summer, YMCA Day Camps came to life with rotating themes like robotics, cooking and sports. In addition to the school-aged participants, 14- to 16-years-olds were invited to find their inner-leader as members of the Y's Counselor in Training (CIT) program.
"Summer 2018 was an amazing season!" exclaimed Brenda. "We served over 400 youth each week in Day Camp, totaling over 4,300 participants this summer. Additionally, 270 students participated in our summer learning program – Power Scholars Academy."
Looking toward the future, Brenda sees youth programming at the YMCA growing in some really amazing ways. She envisions a future full of opportunities that support the growth and development of every unique child and aspires to carry on the Y's tradition and mission of providing a place where children feel they belong, where confidence is nurtured, and achievements are earned and celebrated.
One of the places kids celebrate successes is on the court and on the field as part of the Y's Youth Sports programs.
Families love and trust YMCA athletics because every athlete is valued and respected. All players, regardless of skill, ability or experience, are given equal opportunity to learn, play and achieve goals. In the Y, growing into a better person is just as important as growing into a better player.
"It is always my hope that everyone (kids and families) who participate in our youth sports program feel a sense of belonging. Our staff and volunteers work to build environments where all players have opportunities to succeed and everyone is celebrated," explained Rob, South Sound YMCA's Senior Director of Youth and Teen Development.
"I am so grateful for my current role at South Sound YMCA because I get to dedicate my work and time to something truly meaningful, creating and growing positive engagement opportunities for the youth and teens in our community."
At the YMCA, all teams are run by volunteer coaches who emphasize fun, sportsmanship, skill development and teamwork, while creating opportunities that foster self-esteem.
"Our volunteer coaches are truly amazing," shared Rob proudly. "They are superheroes to the youth and families they interact with every day."
Because YMCA coaches are volunteers, each brings a special motivation with them to the court or field. Some do it for their own kids or to share their love of a sport with a new generation. Others enjoy watching each player grow in confidence and ability.
"Creating community and building people up is very important to me and to everyone in the Y – it's why we do what we do, emphasized Rob. "When kids and families make and feel these positive connections it makes a world of difference in their lives. Getting to see the positive impacts day in and day out by our coaches, staff, families and participants gives me so much hope in people and who we can become together."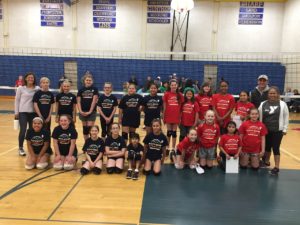 "It is truly a great time for kids and families to be involved our the YMCA," concluded Brenda. "We are doing amazing things with our community and every member of the YMCA team deeply believes in our cause and our mission. We are continually seeking out and discovering ways to improve and bridge gaps within the community and to support our families in the very best way we know how."
Discover opportunities for belonging, achieve your goals and build relationships as a member of our Y family! Winter Day Camp and Winter Youth Sports registration are both open now. Sign up for programs at the South Sound YMCA website.
Sponsored