For 150 years Americans have enjoyed the art of burlesque and it's still going strong today. Witness a stunning 21st century interpretation when The Lalas visit Quinault Beach Resort and Casino on Friday, October 26.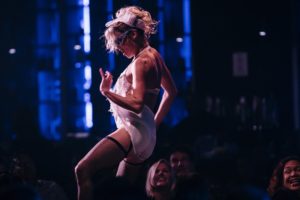 More than just sultry, though that's there in abundance, burlesque celebrates its dancers. "Tired of the constant barrage of in-your-face sex in popular culture? You're not alone—which may explain the comeback of good old-fashioned burlesque…As the culture gets more desensitized to sex, burlesque remains a sensual delight—with humor," says a recent article in New York Magazine.
Historians explain that "Burlesque is an exotic dance style that draws on theatrical and often comedic performance elements. First introduced by a visiting British dance troupe in the 1860s, burlesque took off in America even as its popularity dwindled in England. The American style of burlesque evolved and spread across the country, but with an increased emphasis on the exotic elements that had been more subtle in British performances."
This Halloween-themed extravaganza starts at 8:00 p.m. on October 26. Tickets are $25 and available online or at the door. Make it a night to remember and combine show tickets with the Nightmare Ball overnight resort package. This starts at $279 and includes a 2-night stay and 2 tickets to Quinault's Freak Night on October 27.
The Lalas began in California in 2010 and consist of "the most elite working female professional dancers working in the film and entertainment industry." They've appeared on TV, the Broadway stage, and even showcased at the People's Choice Awards.
Their routine is described as "custom, comedic, audience interactive burlesque shows…Be prepared to laugh 'til you're in stitches and drop your jaw, as you watch the world's most in demand burlesque show take the stage."
In a nutshell, their mission is clear: global burlesque domination, international tours, and to wear costumes with an obscene amount of rhinestones. Not sure what to expect? Watch videos on The Lalas YouTube channel which showcases performances, tour stops, and unscripted fun.
Show creator and choreographer Erin Lamont is proud of her team. "The Lalas are a Los Angeles based burlesque show and perform a classic rock themed, hilarious, audience-interactive show around the globe," says Lamont. "Perfect for date night, girls night out, or if you just want to see the best in burlesque, The Lalas will keep you laughing, hooting, and hollering—whichever you prefer—for 75 minutes. Sure, you can see The Lalas on TV: Empire, Dancing with the Stars, The Emmys, etc. And yes, each costume is hand-made, in-house by The Lalas' team. And absolutely each show is custom and one of a kind with music to the likes of AC/DC, Buddy Guy, Led Zeppelin, Etta, etc.  These are just a few of the many reasons that you should come check out The Lalas Burlesque Show!"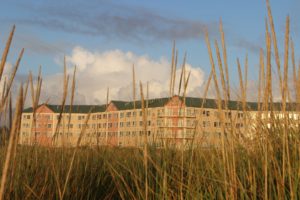 Before and after the show, cool off with a visit to one of Quinault's many decadent dining options. If things get romantic don't worry, they offer room service. Then grab your Q-Club membership card and hit the gaming floor. Not a member yet? Anyone 21+ can sign up for a free membership and start earning rewards resort-wide.
Can't make the show but looking for fun things to do all year round? Bookmark the Quinault Beach Events page for festivals, car shows, concerts, and shows. There you'll also find links to gaming promotions, Ocean Lounge Entertainment, and more.
Want to know more about the thriving world of burlesque? Princess Lucky Buttons of Olympia's Own TUSH! says things are going strong. "As a lover of this art form it's been exciting to see its popularity grow over the past couple decades. Today most communities in the NW and beyond have a burlesque presence, with Seattle being a major hub of the burly scene. In fact the 11th annual BurlyCon (the only burlesque education convention in America) is coming up Nov 8-11 in Seattle."
Thanks to venues like Quinault Beach Resort and Casino, we can enjoy world-class entertainment that's less than two hours from Olympia. And after a show like The Lalas, you may even go home with a new hobby.
Sponsored