From Adam Sandler's "Lunch Lady" song to every teen show on Nickelodeon and Disney, school cafeteria food is the source of many jokes. Even our own experiences with the school cafeteria may leave a bad taste in our mouths – literally. 8 Arms Community Bakery has set out to change that.
The Olympia School District is making a conscious effort to provide locally sourced produce and products in their schools. Not only does this help to support and boost the local economy and small businesses, it enables them to offer fresh and healthy selections to their students.
8 Arms Community Bakery is one of their partners, supplying pizza crusts and bagels to the middle and high schools. Jen Ownbey, 8 Arms founder and master baker, used to be a teacher herself, working for the North Thurston School District. But her passion is and always has been baking.
"We started as a bakery share program," Jen explains about the bakery's humble roots. This is similar to produce share programs, where subscribers get a box of goodies delivered to them weekly. "After that, we added in wholesale," she continues. "Now, in our new location, we also have retail hours Tuesdays through Saturdays."
When the opportunity arose for 8 Arms to partner with OSD, it seemed like a no-brainer to Jen. She would be able to combine her love of baking with her love of schools. Jen and her crew all believe it is important to offer nutritious and delicious products and what better way to do that than partnering with a school district?
8 Arms provides whole wheat pizza crusts to the middle and high schools of the OSD. In addition, they also supply the schools with a variety of muffins and desserts, some of these gluten-free. After Bagel Brothers went out of business, 8 Arms became the bagel supplier for schools who wanted to offer that as well.
Jen laughs as she remembers the phone call. "They called and asked if we could start the bagel delivery on Monday….and it was Thursday." But Jen and her crew were up for the task and it has been a beautiful thing ever since. "It's been a good partnership for us."
The 8 Arms crew is being trained in how to make this busy partnership happen. "We do early morning deliveries on Mondays, Wednesdays, and Fridays," she explains. "We make the pizza crusts and bake them. Then the cafeteria workers top them and bake them again. We do about 200 pizza crusts a week and a couple hundred bagels a week."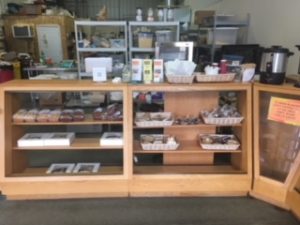 The bakery also offers field trips for small groups, though the best way to really know about the business of baking is to take one of their classes. Their adult and kids baking class information can be found on the 8 Arms Bakery website.
The smells from 8 Arms sweep you off your feet when you are still in the parking lot. The open-air screened wall allows fresh baked goodness to pull in passer-byers off the street. Walk in and you are surrounded with fresh baked specialty breads, decadent pastries, and cookies as far as the eye can see. The open kitchen concept allows you to watch as the crew works to create beautiful and tasty treats. And everyone has a smile on their face.
This is the perfect time to visit 8 Arms as they are preparing to start their fall product line. "We do pumpkin spice bread, apple crisps, sweet potato cheesecake bars, and chocolate pumpkin cake," says Jen.
With the fast approach of fall, Jen knows that the holidays are right around the corner. This is the bakery's favorite time of year as they get to be creative and detailed in their special holiday offerings. Jen is more than happy to make any holiday bakery dream come true. "As the holidays approach, you can special order anything through our website," she adds. They are always up for a challenge when it comes to dessert.
Jen and her crew really believe their bakery is one of a kind. "We have such a wide variety of things we offer," she adds. And if you don't see something you like, Jen is happy to still try and make it for you.
Visit the 8 Arms Community Bakery website to learn more about their offerings or email Jen and her team at info@8armsbakery.com. You can see the holiday specials on the holiday order page.
Of course, Jen would love for you stop by, where the delicious smells are free.
8 Arms Community Bakery
8108 Dr. SE Suite 108 Olympia
Tuesday, Thursday – Saturday: 8:00 a.m. – 4:00 p.m.
Wednesday: 9:00 a.m. – 4:00 p.m.
Sponsored