A "roadeo" is quite a bit different than your typical rodeo, but the premise remains the same, various stages of competition competing for the top prize. No one knows the reins of this competition better than Intercity Transit (IT) who recently took home a slew of awards at the 2018 Washington State Public Transportation Roadeo, including for the fourth consecutive year, the Grand Champion Award.
Taking place this past August in Kennewick, the Washington State Roadeo brought over a dozen transit systems from across the state to compete for the top prize. Fellow systems competing with Intercity Transit included King County Metro Transit, Pierce Transit, Ben Franklin Transit, Everett Transit, Link Transit in Wenatchee and Spokane Transit, among others.
"The roadeo showcases the skills and attention to safety that our diesel technicians and bus drivers bring to our community and transit customers every single day," explains Ann Freeman-Manzanares, IT general manager. Events at the annual roadeo simulate the everyday work conditions that transit employees face, including weaving through traffic, backing into tight spaces with limited visibility, unexpected stops, as well as mending the hundreds of mechanical issues that keep buses on the roads and adhering to schedules.
At this year's competition, IT's Maintenance Team won first place for the third year in a row, beating out seven other teams. Diesel coach technicians Grant Swidecki, Joe Bell and James Bush were all put to the test in seven individual timed scenarios. As a team, the three technicians analyzed and provided various solutions to issues in diesel engines, electrical systems, passenger doors, HVAC systems and air and transmission systems. In addition, Grant, Joe and James also completed a written test and bus pre-trip inspection in which, within a seven-minute time frame, the team members were required to scour the coach in search of 14 planted defects and a security hazard.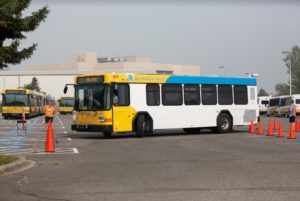 In another phase of competition, the IT Operators (drivers) took the stage. Dan Savage competed in a para-transit van, Rob Wood drove a 35-foot coach, and David Randall drove a 40-foot coach. This stage requires operators to navigate their way through 11 obstacles placed throughout a road course, including two backing maneuvers, two passenger stops, right-and-left-hand turns and a serpentine weave that simulate daily traffic conditions. While completing these tasks in just seven minutes, judges both onboard the vehicles and throughout the course score each operator on their performances including safety, timeliness, smoothness of their driving and contact with obstacles.
All three operators from IT took second place in their respective categories, with David Randall also bringing home the award for best coach pre-trip inspection. When asked why he competes in the roadeo competition, David was excited to talk about his experience. "All of the hours I spent practicing on the course and on pre-trips finally paid off this year," expresses David. "I love the camaraderie with my teammates and fellow competitors. As all roadeo participants will agree, competing in bus roadeos makes you a much better driver overall and able to maneuver a bus in tight situations." For a full list of the top finishers at this year's roadeo, visit the Washington State Transit Association website.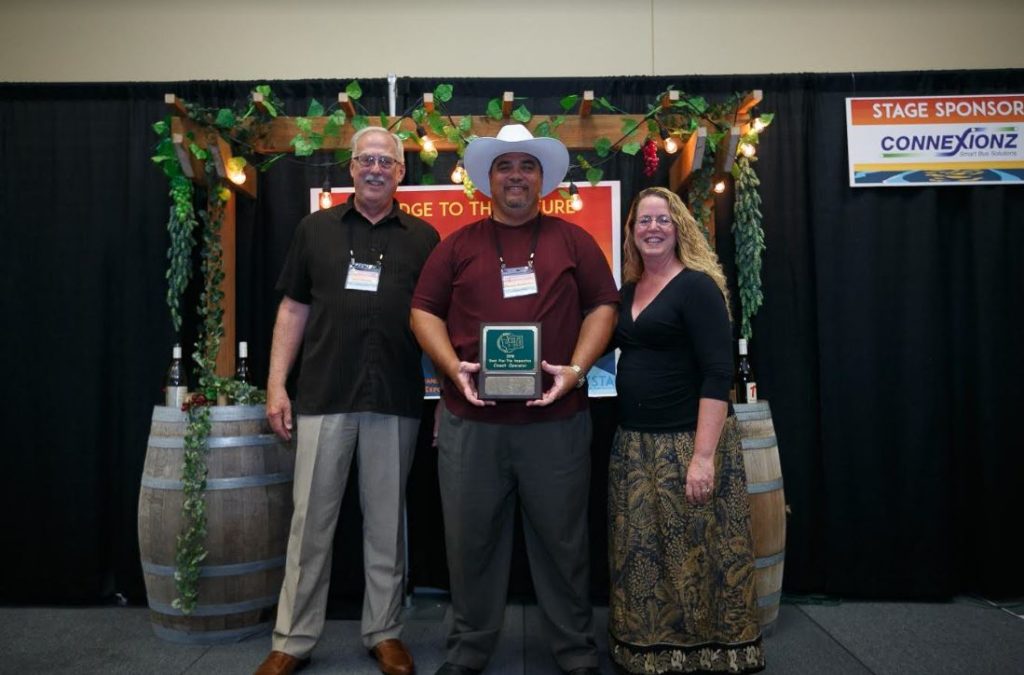 State Recognition
IT also recently received state recognitions at this year's Washington State Transit Association (WSTA) Conference in Kennewick. Seven employees were named as Wall of Fame Honorees.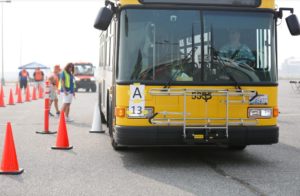 IT Information Systems Manager, Thomas Van Nuys, is one of the most recognized employees in the agency's Thanks To You program and consistently operates in a spirit of partnership to find sustainable systems solutions. Thomas has saved the agency thousands of dollars through technology efficiency efforts.
The IT Procurement Team consists of Katie Cunningham, Tammy Ferris, Jeff Peterson and Steve Krueger. These four team members possess over 67 years of combined government contracting experience, which has helped them continually improve the processes within IT and deliver exceptional service and value to the Thurston County community.
IT Operations Supervisor, Reuben Lamberson, is an exemplary employee who provides unruffled responses to any situation, ensuring safe and reliable service even during severe weather and emergency events. Reuben has gained the respect of the entire agency for his calm demeanor, poise and composure while making critical decisions as an operations dispatcher.
IT Operations Supervisor and Roadeo Coordinator, David Dudek, recognizes the value of the Roadeo in teaching and honing the skills that make for a safe and proficient transit operator. He has been instrumental in volunteering his time to create the State Roadeo course in addition to planning and executing Intercity Transit's local roadeo. The success of IT's Operators is directly attributable to David's dedication and determination as their roadeo coordinator and coach.
The dedication that IT puts into serving the community at the highest standard shines through in every aspect of the agency. With a fleet of 71 coaches with 191 operators, 15 diesel technicians, seven auto technicians and a maintenance team working 24-hours a day, 5 days a week, IT deserves to be recognized and awarded for their excellence. Learn more about IT by visiting the Intercity Transit website and social media accounts, including Facebook, YouTube and Twitter.
Sponsored