It is easy to fill up your bags with leafy greens and red berries during a visit to the Olympia Farmers Market. You might also need a plate or bowl for serving your gorgeous produce or maybe you are looking for that special something to decorate your home. Seeing the clay works as you stroll through the market is equal to the beauty found in a museum. Take time to meet the artists at Marion Pollmann Clay Art, Rainsong Tree House Clayworks, Sunrise Beach Pottery and Kennedy Creek Pottery.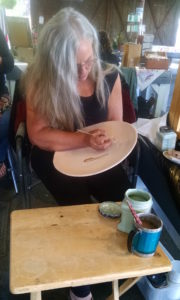 Terri Eliason, of Rainsong Tree House Clayworks, has been part of the Market for well over a decade. She loves her customers and all the visitors. "It's truly a community," she says. Her raku pieces in pottery, wall art and jewelry are lovely to behold. Raku is an ancient Japanese firing technique that creates intense colors. The word itself means enjoyment, comfort, or ease. Every piece is unique. Many people are surprised to learn it takes over three weeks, not counting design time, to bring a piece to completion. Every step is done by hand. It is possible to make arrangements for custom work, but there's plenty to see when you visit her.
Ceramics artist Marion Pollmann integrates her life experiences with the beauties of the outdoors for an inventory decorated with dragonflies, birds, leaves and other natural notes. Marion's special clay formulation allows all her pieces to live happily outside or inside. Her garden markers and welcome signs harmonize with the environment of the produce vendors. The cheerful plates and serving dishes are food-safe, and will do fine in the weather outside and then can be washed in the dishwasher.
You'll find a pleasant variety of her pieces at the Market, but if you want something like a special marker for a pet, you can do a custom order. Marion makes pieces both large and small. Recently she was displaying small, colorful encaustic tiles that are made using bees wax. They are exquisite. Marion is pleased to engage with shoppers about her work. "Being at the Market was always my goal," she explains. "The traffic – it's the best."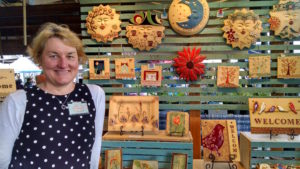 The imaginations of the market artists make browsing stimulating and fun. There is so much beauty that often serves a handy purpose as well. Drink in the colorful glazes and take time to talk with the artists. There are always delights to be found at our delightful downtown market.
For more information, visit the Olympia Farmers Market website.
Sponsored