The days may be getting shorter as Fall nears, but the American Lung Association (ALA) is hosting its second annual Reach the Beach event for cyclists to get in one last long day ride. Coming up on September 29, this event is the perfect chance to join fellow cyclists and volunteers along what promises to be a beautiful route, while also supporting a worthy cause.
What will be a fast and flat route going through Thurston and Grays Harbor counties will delight hundreds of cyclists, both seasoned and newer. In 2017, the ALA saw a high turnout with many participants and they are excited to bring back the fundraising event for the second time.
"Reach the Beach Washington is really a way for the American Lung Association to engage with the Grays Harbor and Thurston county communities and what our mission is," says Season Oltmann, executive director of the ALA in Washington. "It's also a way for us to bring constituents of ours from other counties and really show off the beautiful counties that are Thurston and Grays Harbor county."
The ALA works to advocate for anyone who breathes by helping those with lung related illnesses and also educating others to help prevent future lung problems and much more.
Cyclists participating in the event are able to choose from four different starting points that best suit their desired distance to travel. There are starting points beginning from Lacey (100 miles), Olympia (81 miles), Elma (44 miles), or Cosmopolis (25 miles), that give riders of all levels a chance to join in on the fun and celebrate at the finish line in Westport.
"The last eight miles are actually on the bike track on the dunes of the beach at Westport, which is just a really beautiful route," shares Oltmann.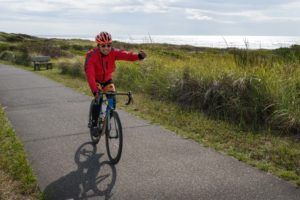 The ALA has all of their bases covered to make an enjoyable, smooth event with mechanic and medical personnel provided and rest stations that will be set up every few miles. They will also be providing lunches and snacks to keep the cyclists fueled up and ready to go.
If the halfway point is where riders will begin their portion of the event, staying the night in Elma on Friday night to start the event at the Elma High School in the morning is a good option. There are several lodging options, such as booking a stay at the Stay Beyond Inn & Suites or reserving a campground site with on-site showers and bathrooms at the Grays Harbor County Fairgrounds for $20 a night. Some great local restaurants to dine at are the Rusty Tractor or SchuJacks Bar & Grill for a satisfying meal.
With plentiful options to rest once the event starts with stations every 15 miles, participants will want to make certain they take a break at the last station before the finish line in Westport. "Our last rest stop of the day is the Westport Winery," Oltmann says. "They're giving us ten percent off anything that is purchased that day in the tasting room."
If participants do indeed wish to purchase some wine, the ALA is offering a wine valet service where any wine they buy will be shuttled out to the finish line for them. What a sweet deal to be able to buy some delicious local wine while also fundraising for a good cause.
Blackbeard's Brewing, a popular pizza restaurant and brewery, will be at the finish line in Westport serving up local beer and Aloha Alabama BBQ & Bakery will be serving dinner Saturday evening that is sure to be a memorable meal.
A perfect way to wind down after the event is continuing the weekend out in Westport. For overnight lodging, check out Vacations By The Sea or the Chateau Westport Resort that are offering discounts for participants. Some highlights visitors won't want to miss are the outlook tower that looks over the jetty, the quaint local shops, visiting the Westport Maritime Museum, and many other activities. There's no shortage of yummy dining options and if people are craving fresh seafood, be sure to visit Bennett's Fish Shack that has highly recommended fish and chips.
Reach the Beach is patterned after an annual cycling event in Oregon that has been going strong for the last 27 years by the same name. Bringing it to Washington has been great for the ALA and for participants, too, many breaking their personal records during the inaugural event last year. For avid cyclists hoping to end the cycling season with a century ride, this event is a chance to check it off the list.
If riding isn't a possibility, there are other ways to lend a hand to this great cause and be a part of so many communities coming together. "There's lot of volunteer opportunities for students or any groups all the way along the route," Oltmann says.
Registration for the event is now $55 with a minimum of $150 in fundraising to participate. There is no cutoff date to register, but don't delay signing up for the chance to take in some gorgeous scenery and celebrate with friends. For more information on all of the incentives, registration, volunteering, or donating, take a look at the Reach for the Beach Washington website.
Sponsored