Businesses often fight battles behind the scenes that many are not aware of, and this rings true for Wishkah River Distillery. Opening the doors and expanding operations to other facilities is a task that is nearly impossible for this small business in Aberdeen – and for every other distillery in the state. For this reason, co-owner and master distiller, Josh Mayr chose to sit on the Legislative Committee of the Washington State Distillers Guild to help propel his business, and the businesses of others, to the next stage of development.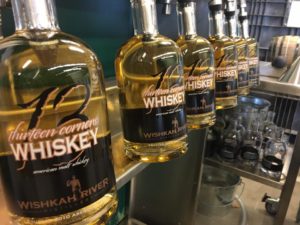 For the past several years, Josh has dedicated his spare time to educating himself and delving into on the ongoing legislative battle regarding distilleries and their expansion capabilities. As it currently stands, the foremost problem that Josh and other distilleries located in Washington State face is that they are only allowed to operate tasting rooms at their industrial or light industrial zoned locations, where the distilling physically takes place. "This creates a multitude of problems that hinder the distilleries ability to be as successful as they could be," explains Mayr.
Looking at Washington State as a whole can help those new to the topic understand the massive scale of the problem. This area of the U.S. is one of the fastest growing for producers of an ever-widening range of spirits that include whiskey, rum, brandy, gin, vodka, unique liqueurs and others. As of a few years ago, the state had nearly 100 licensed distilleries, with many of them being located in Seattle and surrounding regions.
Unlike wineries, distilleries cannot detach tasting rooms from the production centers, meaning that the location isn't normally in a downtown corridor where the foot traffic is high. To make matters even more complex, in these tasting room locations at the industrial sites, distilleries are only allowed to serve two ounces of spirits per person, per day. And they cannot be mixed into cocktails. To counteract this, Josh has been creative and partnered with local businesses to feature his products on their shelves where they can mix them into cocktail form. He also actively attends various events in Gray Harbor, Thurston and King County where guests can sample his products. Another problem that distillers in the state face due to not being able to detach tasting rooms from the production centers is that in order to generate more revenue, they need to package their products to sell on a massive scale competing against internationally known brands in local stores.
"It's difficult to create a name for yourself when one of the few options to generate awareness about your company is to be placed on shelves next to well-known brands that customers are partial to," expresses Mayr. "Without a tasting room in a prime location, most people don't even know where distilleries are located or that they're open to the public."
Because of these reasons, Josh has been closely involved in the past two legislative sessions in Olympia. During this past session in early 2018, Josh and his fellow comity members pushed for legislation to expand retail capabilities and allow for two tasting rooms to be detached from production centers. Unfortunately, the Distillers Guild's Bill HB 2609 was shut down after passing Commerce and Gaming and Appropriations, which were huge hurdles to overcome. Throughout the course of the next year, leadership roles can change, so it's difficult to say how future bills will fair once the session begins again.
Persistence and dedication is what has kept Mayr working and pushing for change in the industry he's so passionate about. The Washington State Distillers Guild has recently been working on a public relations campaign focused on local distilleries reaching out to legislators and stating what's needed for them to be successful in the industry. Josh also dedicates his time to communicating effectively with other members of the Guild as well as helping plan a large tour around Seattle taking legislators to distilleries to hopefully help them understand why the industry isn't able to thrive as it should.
What Josh really wants people to understand is that distillery tasting rooms are meant to inform visitors of the craft and offer tastings in a relaxed environment. Similar to breweries and wineries, Josh is hopeful that the future will bring a time when tasting rooms can be implemented into downtown corridors across the state and guests can try uniquely crafted products in a convenient location. "I never expected to be so involved in Olympia when I first opened shop in Aberdeen," states Josh. "However, this industry is my passion and I'm happy to help other local distillers reach new heights and be successful."
Learn more about the Washington State Distillers Guild here. You can also visit the Wishkah River Distillery's website and follow them on Facebook.
Sponsored