When the original Star Wars movie came out in 1977, Ronelle Funk enjoyed it, but her dad enjoyed it even more. In fact, he liked the film so much that he took his daughter back to see it in the theater – seven more times. "I'm a fan," says Ronelle, owner of Allstate Insurance branches in Olympia and Yelm. "Thinking of these movies reminds me of how much my dad and I both loved them."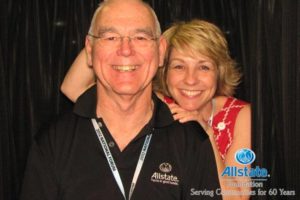 For the past five years, Ronelle has been sharing that enthusiasm with her clients through Star Wars-themed customer appreciation events. Every time a new movie within the franchise debuts, she hosts a special screening and invites all her customers to attend. "I wanted to give something back," she says. "They're so good to us and this is a nice way to show my appreciation with something really fun they can do as a family." Customers from her Lacey office attend a showing at Regal Martin Village Stadium while their Yelm counterparts visit Yelm Cinemas.
Taking care of customers is nothing new for Ronelle's agency, which was voted number one in customer service in a five-state region. She has been recognized as one of Allstate's top agents ending each year consistently in the top 1% in the Nation. Locally, she was voted 1st Place finisher in the Best of South Sound, "Best Insurance Agency" category.  Her agency in Yelm also was voted "Best Insurance Agency" in the Nisqually Valley News in 2017 and has been nominated an additional five times. In 2014, the Yelm Chamber of Commerce voted her agency Business of the Year.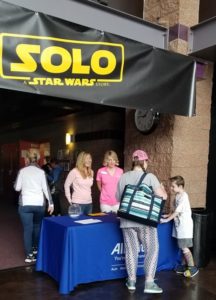 Funk has also served as Yelm Chamber of Commerce President, is a member of the Business Advisor Board at Yelm High School, and she teaches financial literacy classes at the YWCA and SafePlace. Her agency is a regular sponsor for annual events like the Nisqually Home and Garden Show, Yelm Dollars for Scholars, and the Olympia Toy Run.
When she initially began hosting customer appreciation events they were held at Rainiers baseball games, but the Cheney Stadium venue proved limiting. "I couldn't really interact with my clients," she says. "What's nice about the movie theater is that I can go around and talk with each person individually. They get to know me a little better, I can introduce my staff, and we all get to watch a fantastic movie together."
The tradition began with the release of The Force Awakens in 2015 and has continued through The Last Jedi and stand-alone films like Solo and Rogue One. Customer response has been positive. "Everybody enjoys the event," she says. "We always have cutout characters at the theater where guests can have their pictures taken that we post on Facebook."
Guests have the option of dressing up in character, but most just wear Star Wars shirts, she says. For the recent Solo premier, Regal Cinemas had a replica of the Millennium Falcon in their lobby which proved a popular source of photos among clients.
By now Funk has watched and re-watched the series, introducing her now-grown sons to it along the way. The difference? They saw it on Netflix rather than in a theater. Regardless, both are also fans. Around 10 years ago when the family participated in a local pet parade, they chose a familiar theme. "The kids and I dressed up in Star Wars costumes and our poodle Milo was Chewbacca," she laughs.
In preparation for the first event, Funk revisited the entire series. "The characters feel like old friends," she says. "Luke Skywalker, Princess Leia and I have grown up together. And I love traveling back in time with the prequels learning the back story of the characters like Han Solo and Darth Vader."
Clients can look forward to more screenings in coming years: a new film at this point titled only 'Episode IX' is scheduled for release in December 2019. A stand-alone movie focused on notorious bounty hunter Boba Fett, featured in both the original trilogy and the prequels, is rumored for 2020, and a trio of films from director Rian Johnson (The Last Jedi) is also purported to be in the works.
Whatever happens, Funk and her clients will be there, popcorn in hand.Read more about Ronelle Funk Insurance on her website or call 360-491-3376 (Lacey) or 360-458-6061 (Yelm) or find her on Facebook: RonelleFunkInsuranceLacey or RonelleFunkInsurance for the Yelm location.
Sponsored