North Thurston offensive linemen Kai Burgman, Andy Ros, and Joey Oliver have just finished up one of their last practices before the Rams' season opener against West Seattle.

The three are sweaty and exhausted. They've just spent the past two hours in near 90-degeree heat slamming into each other.
"The O-line is definitely different from the other positions," said Burgman, one of the 3A South Sound Conference's top two-way lineman. "It's more of a grind. Whenever a coach says we are going to have a light practice, that's for the skilled guys. For the line, there's no other way to go at it then to buckle up and hit someone every play."
Burgman and his teammates are ready to call it a day, but have now been asked to wait around a little longer so they can get their pictures taken.
They agree and slowly take their places and stand side-by-side like emotionless statues as the camera snaps away. It doesn't take long before Burgman, who is the senior in the group, takes control of the situation.
"Let's at least make it look like we each other," Burgman barks to his teammates.
Ros, a junior, and sophomore Oliver quickly follow suit. The smiles become a little bit wider as they huddle in tightly, each putting their arms around each other.
The truth is, even without Burgman's encouragement, this is a trio that obviously gets along just fine. They bicker, fight, and scrap like brothers one moment, then immediately do a 180 and can be seen joking around – usually at each other's expense.
"They all have similar personalities and just fit well together as a group. They are all intelligent students. They all stay out of trouble. They're just great kids," head coach William Garrow said. "They are going to make us better in the long run. All of them are essentially leaders, not just for us, but at the school too."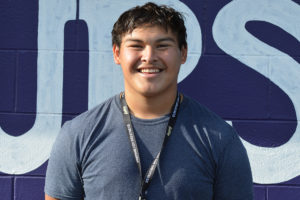 With a sizeable number of first-time starters at the skilled positons, the Rams will rely heavily on the three a great deal during the early stages of the year as the newer players find their footing – a fact not lost on any of them.
"I think we know without (the offensive line) we're not going anywhere this season," said Ros, who starts at offensive guard.
If Week No. 1 was any indication, the three are determined to do their part in helping North Thurston return to its winning ways following back-to-back 2-8 seasons.
Burgman, Ros, Oliver and the rest of the offensive line shined in an opening season win over West Seattle, helping the Rams pile up 521 total yards of offense with 345 coming on the ground in the Rams' 48-18 thumping of the Wildcats.
It marked the most points North Thurston had put up since a 51-point outburst in a win over Foss on Oct. 2, 2014 – a span of 35 games.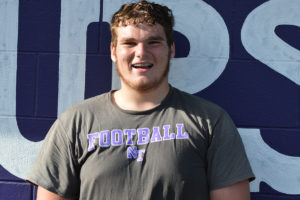 Burgman, an offensive tackle who is a two-time first-team all-league selection, is the veteran. He's the big brother in the bunch, handing out advice and setting the tone for the group to follow.
While Burgman enters his third year as a starter, Ros and Oliver, who plays center, received some valuable playing time last year as underclassmen, which helped greatly with the unit's chemistry. The real bond between the three came in the mat room last year during wrestling season.
Ros and Oliver both compete in the heavyweight division, while Burgman is the Rams' top 220-pound wrestler. All three squared off against each other almost on a daily basis at wrestling practice – a place where things can get a little intense.
"Wrestling is a lot more personal than football," said Burgman, who placed eighth at state in 2017. "So I feel like I know them a little too well."
"Kai did separate my shoulder earlier in the (wrestling) season," added a smiling Ros, who was a state wrestling participate as a sophomore. "He just separated it though. Joey tries to dislocate it."
Of course, incidental separated shoulders heal. What lasts is the knowledge and respect that each of them has in knowing what the others bring in regards to toughness and determination to the football field.
"I think we now have a confidence in each other because we spent so much time wrestling together," Oliver said. "I know what both of them can do and see how hard they work. We trust each other."
"It's a little bit easier to get lost with so many guys out there (during a football practice). You can kind of hide. You can't do that in wrestling," Burgman said. "The biggest thing for me is I've seen them going at it all wrestling season. We've been through thick and thin. I know they're going to go all out on the field and I can depend on them."