During the dog days of summer it may be hard to recall the bitter cold of winter, but that is not the case for the staff of Acme Fuel. Back when the 2012 Pacific Northwest snowstorm was building off the Washington coast, their crew was already setting up for the ensuing emergency calls. "Yeah, we were here for a few really long days," recalls Todd Deck, general manager for Acme Fuel, "around 14-18 hours. The calls just poured in." Extra drivers were on standby, operating hours went out the window and sleep was a rare commodity.
A Chance to Shine When Chaos Hits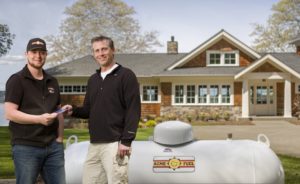 "It separates quality service from poor quality service," says Acme Fuel Co-Owner Christophe Allen. "That is what I try to tell people when they call and ask about our service. It is easy when you just have the average weather – no extremes. Well every so often there is the big snow storm or big wind storm and chaos hits. That is when you separate the good from the bad and that is when we definitely shine."
"If you are our customer, we take care of you, if you are not our customer," Todd says, "…we take care of you!"
"Every time that happens we pick up a lot of new customers." Christophe explains. "You just can't leave someone without heat for that long. "
When Seth Murphy, operations manager, came on board two years ago, he was surprised by Acme Fuel's business practices. At his previous job he had spent hours of his work day adjusting propane fuel prices – Acme only adjusts prices when the wholesale cost changes. "I have almost 20 years in the propane business working in major companies," says Seth, "and this is my first exposure working for a smaller operation. It took some getting used to. Sales is easy when you are just being truthful with people," he confides. "I tell people I sleep better at night now."
Family Owned, Community Driven
Christophe's family has been operating Acme Fuel since the early 1940s. "The way my dad and my grandpa were was just straight and honest," Christophe explains. "Here is who we are and we think you'll like it. And if you don't, we won't try to appease you to make some special deal. It's not fair to give a special deal to one customer, only to make it up on the senior citizen on a fixed income.  We treat everyone fairly."
Elevating and deflating seasonal propane pricing is a common practice for many fuel companies. The way Todd explained it, most places prefer you load up in the summer months. Acme Fuel's automatic delivery service keeps track of your propane consumption and fills your tank as needed. Since there are no delivery charges or fees, and the prices are not jumping around arbitrarily, it's easier on the customer.
Additionally, new Acme Fuel customers get 30 cents off their first propane fill up. "It is probably the only time you will have to completely fill an empty tank," explains Todd, "so it helps the customer out on that first bill to get that discount. This is a great time of year to get an account set up so when the fall and winter come you'll be all ready to go. It is second nature to put things off until you need them so be proactive and get set-up."
"Don't worry though," Seth interjects, "we take care of procrastinators too."
The Purple Propane Truck Delivers More than Fuel
Keep your eyes open when you get your fuel delivery, it may arrive in the special Purple Propane Truck. That truck operates in honor of Christophe's mother, Jeannine, who passed away in 2016 after battling early onset Alzheimer's. For each gallon of fuel that truck delivers, a penny is donated to the Washington chapter of the Alzheimer's Association.  The average annual estimated donation from the Purple Truck is about $4,000.
The Lease or Own Quandry
Though many folks believe it is saves money owning your residential storage tank, Acme's lease program makes it just as affordable to lease. "Once you have used enough fuel," explains Christophe, "we amortize that cost out and we lower the price as if they own their tank. When you lease you have to buy from that company. But we don't jack up our prices to long term customers, we actually lower the price."
I first met Seth last summer. I had a propane fireplace that had stopped working so came in to Acme ready to buy a new valve housing unit. Seth recommended I hold off and offered to troubleshoot it. A few weeks later I stopped in and he took it apart and showed me the problem. I hadn't disconnected the hoses over the summer and the remaining fuel had reacted with the hose and gummed up the valve. It had been a while since he worked in the field, he told me, but this was a common problem. After scraping some terrible smelling by-product out of the hose and off his gloves, Seth returned it to me. Fixed. No charge. He confided later that he did get some of the residue on his shirt and had to throw it away "since you can never really get that cruddy smell out." Would it be going too far to say Acme employees would give you the shirt off their back? Not at all.
For information on setting up propane service, visit the Acme Fuel website or just stop by the office at 416 State Ave. NE and talk with any member of the helpful staff there.
Sponsored