For 43 years, Radiance Herbs and Massage has thrived as a woman-owned and -operated business in Olympia, a tradition owners Karin Olsen and Andrea Seabert are honored to be continuing.
Many successful businesses look to their futures with thoughts of growth and expansion. This has been true also for Radiance, which grew from a two-room practice above Childhood's End Gallery in 1975 to the 4,000-square-foot downtown space it occupies today on 5th Avenue. However, sometimes, the best thing a successful business can do is to simply keep going.
"Andrea and I have always seen ourselves more as stewards, as characters in Radiance's story, as if it has a life of its own. At this time in its history, our highest priority is to maintain the standard of excellence our community has come to expect from this iconic establishment."
This includes continuing their distinctive and relevant course offerings aimed at enriching their patrons' physical, mental and spiritual health. It means keeping a historical massage practice alive and thriving, and exploring the origins of every product to ensure that each item on their shelves is of the highest quality.
"Sometimes customers ask us which product is 'the best,'" says Karin. "The truth is, they are all the best. When we consider what to put on our shelves we ask not just one question about a product's quality, but many in regard to ingredients, means of production and overall impact both on physiology and on environment. We do the research for you so that you can shop with confidence."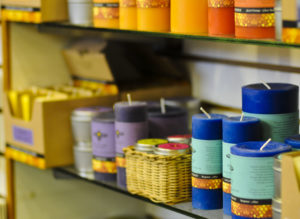 Massage at Radiance
"The massage practice at Radiance connects us to our founding," Karin explains. "The bodyworkers on our massage team are intuitive, insightful and expertly trained holistic healers averaging more than 15 years of professional experience."
Radiance offers an extensive menu of massage services able to address each client's unique needs. These techniques include, but are not limited to, Swedish, Deep Tissue, Lomi Lomi and massage for pregnancy.
Karin, a trained massage therapist herself, holds her team to the highest standards and is proud of the traditions they have not only carried on, but built on as well. Radiance Massage is one of the oldest practices in Washington State and many well-known, now-established practitioners started their professional journeys at Radiance.
Focus on Education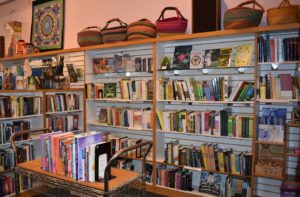 More and more people are coming to realize the importance of shopping locally. When we keep our money in our community we benefit from unique shops, personalized service and high standards of quality. That is because local businesses are run by friends and neighbors who genuinely care about their customers and our patronage supports their families, in turn. Radiance, like many small businesses, continually looks for ways to give back to the community that has supported them all these years. In addition to making many types of donations, one of the ways Radiance does this is through education.
"We feel it's our responsibility to the community to provide a space for learning," says Karin. "Our classes are focused on promoting wellness of mind, body and spirit. While some classes are offered by instructors from the larger community, many of our classes are taught by talented members of the Radiance staff."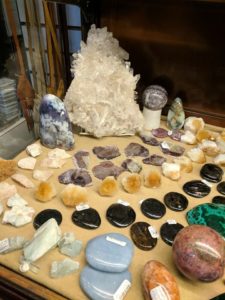 Classes vary in topic and style; they are designed to empower those who attend. Some classes teach how to make things, like salt scrubs or lip balms or herbal preparations. Other classes, like Energy Realignment, that was offered at the beginning of 2018, features instructor-led exercises focused on transforming challenges into self-love. Through Radiance classes you can gain a new or deeper understanding of natural healing, earth-based religions, the power of sound or crystals, or how to work with herbs or utilize essential oils skillfully. Classes are offered every spring and fall, and a complete listing can be found on the Radiance website. Our Fall class offerings will be available at the beginning of September.
A Community for the Community
Radiance's mission statement emphasizes service to the community. The staff aims not only to curate quality, health-promoting products and services, but to educate on the benefits of what is offered so that patrons can, in turn, take responsibility for their own best self-care. They help customers explore their product choices and health decisions through a holistic lens, one that incorporates the big picture.
As a business, Radiance relies on the dedication and skills of its internal community. "Our emotions, instincts and personal experiences are integral elements of our success," explains Karin. "We grow and learn through the wisdom of one another and our aim is that each member of our team be equally valued and respected."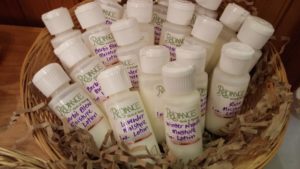 If you have visited Radiance, you know first-hand how this model leads to exceptional service and care. In a time of fast-paced convenience and human connections tethered by technology, Radiance offers an experience that you will find yourself yearning to revisit.
Radiance and You
Radiance–and its perspective on well-being–was perhaps once considered on the fringe. However, today the timeless values and practices that birthed its existence have been widely adopted in our culture and community. More than ever, people are looking for genuine ways to revitalize their spirituality, their bodies and their minds.
Radiance Herbs and Massage is ready to be your guide.  Discover what Radiance can offer by visiting the store or exploring the Radiance Herbs and Massage website.
Radiance Herbs and Massage
113 SE 5th Avenue
Olympia, WA 98501
Retail: 360-357-5250
Massage: 360-357-9470
Monday – Friday: 10:00 a.m. – 7:00 p.m.
Saturday – Sunday: 10:00 a.m. – 6:00 p.m.
Sponsored