Submitted by O'Blarney's Irish Pub
Everyone knows that one person that loves to impress others with the random knowledge and facts they have accumulated over time. O'Blarney's Irish Pub in Olympia hosts a weekly opportunity for people over 21-years-old like this to showcase their trivia knowledge while enjoying good company, food, and beer.  This event is a great time to team up with some fellow trivia lovers and put your knowledge to the test against other members of the community.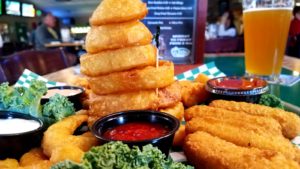 These Pub Quiz Nights occur just about every Thursday night from 8:00 p.m. to 10:00 p.m. or so. The event is a great way to end the day, is free to participate in, and the top three teams win gift cards.  Usually, Pub Quiz Nights are sponsored by a local or regional brewery so there are fun giveaways throughout the night. In the past, these giveaways have included pint glasses, t-shirts, and other merchandise from the sponsoring brewery. Come early and enjoy a burger or sandwich along with $3 Micro Brews starting at 6:00 p.m.  If you are feeling extra hungry, there is a Steak Special on Thursdays as well. For $9.99 you can get an 8 oz. Sirloin steak with roasted vegetables, baked potato, or fries.
This combination of trivia, local beer, food, and fun make O'Blarney's Irish Pub of Olympia a premier destination to be on a Thursday night. 
O'Blarney's hopes to see you at this Pub Quiz Night and others throughout the rest of the summer. These events are an excellent way to spend time with old friends while meeting a few new ones along the way. For more information about O'Blarney's specials or other events go to their Facebook page or Website.