When you think of a weekend at the beach, your mind probably turns to seagulls and crashing waves. On August 17 – 19, Ocean Shores is overrun with birds of a different feather. 12th Man blue and green, exciting events, 'Hawks players, and super fans galore fill the sands with their exuberant cry. Don't miss out on this year's exciting Fan Fest weekend.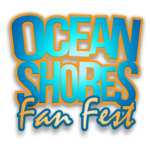 This is the fourth annual Fan Fest. "We average 5,000 to 6,000 people per event," festival organizer Dan Lang explains. "This year we are expecting 10,000. We love the community, and the many businesses that take part. Merchants and people throughout the city pitch in to get behind these weekend events, and this is the most popular outside event in Ocean Shores annually.  It is the second largest, only their Fourth of July has been bigger for visitors."
So far, quite a few Seahawks players and celeb super fans are confirmed to attend. Come mingle with the likes of Joe Tafoya, Hillary Butler, Charlie McShane, Assistant Coach Dana LeDuc, Norm Johnson, Roy Lewis, Alex Bannister, Nesby Glasgow, Alonzo Mitz, Mama Blue, The Seahawks Rooster, Big Lo, Mr. and Mrs. Seahawk, Painted Hawk, Hawk in the Hat, and Sea-Squatch. Joining them will be Mama (Mae) Milloy, Mama Kelly Britt- McCracken, Mama Lynch, Calvin and Ginia Prosise, and Matt Mikolas, AKA 'Slick Hawk.'
"Matt Case from 95.7 the Jet is our emcee," says Lang, "and Slick Hawk is our Parade Grand Marshall.  Mike Brown, formerly of KIRO 710 Seattle, runs our auction event, and Larry Lomax from Spirit 105.3 heads up our Fan Fest Radio link we will have running all weekend."
But more than just a raucous get-together, Fan Fest raises money for service organizations across the region. This year's Saturday night preseason game viewing is paired with a live and silent auction. Monies raised from the evening will go to help Sheep Dog Impact Assistance (SDIA).
SDIA benefits military, law enforcement, fire, and rescue workers considered "society's protectors, our 'Sheep Dogs'…Members and fellow Sheep Dogs continue service opportunities to satisfy their innate desire to serve and help those around them through three programs: disaster response missions, outdoor adventures, and holiday assistance."
The Saturday night viewing and pregame celeb meet-and-greet will be hosted at the nearby Quinault Beach Resort and Casino. Other activities take place all across Ocean Shores, an easy 90 minutes from Olympia.
Thursday night is the Tailgate Kickoff from 5:00 p.m. until the wee hours at Oyhut Bay. This brings together vendors, food, music, games, and more. Activities are free with options to rent bikes, kayaks, paddleboards, or just come to get your game-day spirit started.
On Friday, vendors and the new KidZone open at noon at the Ocean Shores Convention Center. At noon the Beast Bus also arrives and kicks off an afternoon of mini golf, go karts, and bumper cars. Be on the lookout for special celebrity guests mingling with the super fans.
Once you've worked up an appetite, head back to the Convention Center for a spaghetti dinner to balance out the buzz from a night long Blue Friday Pub Crawl ahead.
But don't drink too much because Saturday's VIP Golf Tournament begins promptly at 8:00 a.m. as does Sharky's 5K Run/Walk. Then relax the morning away until a 10:30 a.m. flag raising ceremony at the Convention Center followed by live music until the Fan Fest Grand Parade takes to the roads at 12:30 p.m.
After the parade, join in a group photo, dance to more live music on the main stage, and shake out those muscles for Bowling with the Mamas from 3:00 p.m. to 5:00 p.m.
When those games are done, trade bowling shoes for dancing shoes with more live music before heading to Quinault Beach for the big VIP Meet and Greet, watch the Seattle Seahawks take on the LA Chargers at 7:00 p.m., and bid on auction items galore.
Sunday you can sleep in…a little. The pancake breakfast runs from 8:30 a.m. to 11:30 a.m., vendors and DJ's start at 9:00 a.m. and there will be a chapel service at the Convention Center from 10:00 a.m. to 11:00 a.m. Vendors close at 3:00 p.m. but stay and enjoy the gorgeous beachfront sights, sounds, smells, and endless things to do.
Many events are free but tickets are required for some of the VIP entertainment. Print out the full—and I mean very full—calendar of activities that breaks down all the when, where, and what so you don't miss a thing.
The season opener with the Denver Broncos isn't until September 9, but that doesn't mean you can't bring your family and your finest to the Ocean Shores Fan Fest and let your inner 12 out to play a little early.