Fashion icon Iris Aprel says, "Transformation, punch, individuality: One or all of the above are why you should wear jewelry." We all know how the right piece of jewelry can catch the eye, catch our breath, and become the centerpiece of conversation. At The Popinjay in downtown Olympia, you are sure to find a piece that you won't soon forget.
Since 1977, owner Janis Dean has graced Olympia with fashion, fun, and chocolate. One of the artists she's carried since almost the beginning is Firefly. These striking pieces are sold out of California, but handmade in Guatemala. Their passion is to honor the culture where the jewelry is made. This is reflected in the geometric designs and vibrant colors. The nationals who make the jewelry are able to support themselves and their families through their business.
Many of the pieces have mosaic patterns and use Austrian crystals (a very popular trend in jewelry right now). They are hand-set, high quality, and will definitely get people talking. With a selection of earrings, necklaces, and bracelets, you are sure to find something that you will love forever.
The Popinjay also has a large collection by Seattle artist Kristen Ford. With unique and unusual cuts of stones, these pieces are unlike anything you've ever seen. From light pink rubies to smoky quartz, this elegant collection speaks of sophistication with a touch of whimsy. Many of the pieces also feature a delicate string of beads rather than a more traditional silver or gold chain.
This is jewelry that is meant to be tried on! When the stones are held against the skin, you can really appreciate their true color and beauty. Janis and her team are more than happy to open up a case, pull out a few pieces that they think will suit you, and let you enjoy what they have to offer.
Brenda McGowan is an artist that Janis met at a trade show. She has even come down to The Popinjay in person to share her work. From Eastern Washington, Brenda's artisan work uses sterling silver and high-quality gemstones. These cool pieces are made with love. You can see the detail in how wiring is precisely wrapped around the top of a pendant. Or how beads are carefully strung in the middle of a beautiful earring. Not to mention her use of chalcedony quartz, which is unlike any stone you've seen before.
Rebel Designs is a newer collection at The Popinjay. Straight from New York City, this selection is bold and modern. With sparkling Austrian crystals set against leather, this is the kind of jewelry you want for a night on the town. These hip designs come from the brilliant mind of a young woman who wants to make pieces that combine grace and grit, city and sophistication. With plunging necklaces and crystal studded earrings and bracelets, you will never look the same!
The hand-set jewelry of Patricia Locke is a favorite at The Popinjay. She is a bench jeweler, meaning each piece is made by hand from beginning to end. These high-quality items, made by her artisan team in Chicago, are a modern mix of metal and gemstones. Whatever color combination you are shopping for, you are sure to find something to compliment it in the Patricia Locke collection.
The French-inspired jewelry in Catherine Popesco's La Vie Parisienne is très magnifique! These silver and gold pieces are simple and classy, the perfect accessory for a professional or playful look. Crystals bring a bit of sparkle to several of the necklaces and earrings. And, of course, what French collection would be complete without a few Eiffel Tower pieces?
The Popinjay also has a fun assortment of hand-beaded broaches. These pins are so fun and funky, featuring everything from ladybugs to butterflies and several other nature-inspired ideas. Talk about a talking piece! These beautiful broaches are made in India, supporting the talented artisans who craft them.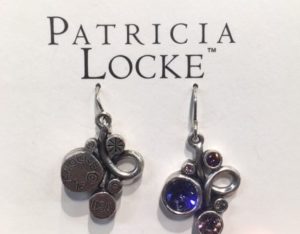 There is also a large selection of American made pieces that are very affordable. Earrings and necklaces that celebrate various hobbies and passions are sure to put a smile on the face of everyone who sees them. Owls, dolphins, wine glasses, music notes, trees, hearts – you name it, The Popinjay probably has a piece that celebrates it!
Whether you are looking to update your own collection or buy a unique and unforgettable piece for someone you love, The Popinjay is the perfect place for all your jewelry needs.
The Popinjay
414 Capitol Way, Olympia
360-352-9841
Monday – Saturday: 10:00 a.m. – 6:00 p.m.
Sunday: 11:00 a.m. – 5:00 p.m.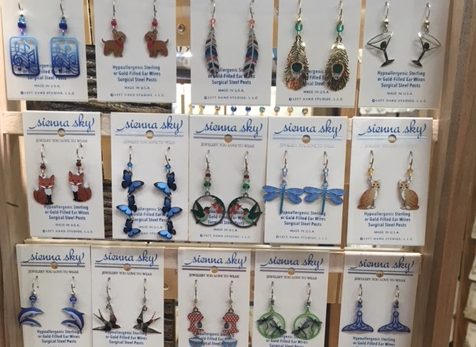 Sponsored